11 tips how on to wear vintage and historical clothing in your everyday life without making people thinking you're crazy or old-fashioned! 😉
Do you want to wear your beautiful vintage and historical dresses in your everyday life? But you don't want to look too costumey or old-fashioned? Below I share 11 tips on how to incorporate your vintage and historical clothing into your everyday wardrobe and how to style them to look modern!
Do You Wear Historical Costumes In Everyday Life?
I don't wear full historical costumes in everyday life. But I like to be as eco-friendly in my (historical) sewing as possible. And so I thought it'd be a waste to wear historical costumes only for photoshoots and special occasions. That's why I started to incorporate my historical costumes into my everyday wardrobe. But I still want to look modern. 😉 So below are my tips on how to make your vintage and historical clothing look modern.
My favorite ways to wear vintage and historical clothing in everyday life:
Edwardian chemise with a belt as summer dress
1920s & 1950s dress with modern accessories
Edwardian camisole as summer top
short Edwardian skirt with a modern top or sweater
historically-inspired aka historybounding outfits
I also started to make historical outfits that look more modern so that I can wear them today, like a shorter version of Edwardian skirts or a short 18th century dress.
1. Mix & Match
Choose just one vintage or historical piece of clothing and combine it with modern clothing. For example, you could wear a long Edwardian skirt with a modern crop top. Or wear a historically inspired corset top with a modern A-line skirt.
2. Lingerie Dressing AKA Underwear As Outerwear
While, in the past, it was not acceptable to wear underwear in public (unless you're a lower class peasant), today it's perfectly acceptable. It's even a fashion trend right now to wear underwear as outerwear, think corset tops.
Related: Modern 18th Century Recycled Denim Stays – History Bounding
So, today, you can just wear historical underwear in public, like an Edwardian chemise as summer dress. Or make a simple Edwardian lace camisole from a handkerchief!
Related: Handkerchief To Top Refashion – Edwardian Handkerchief Camisole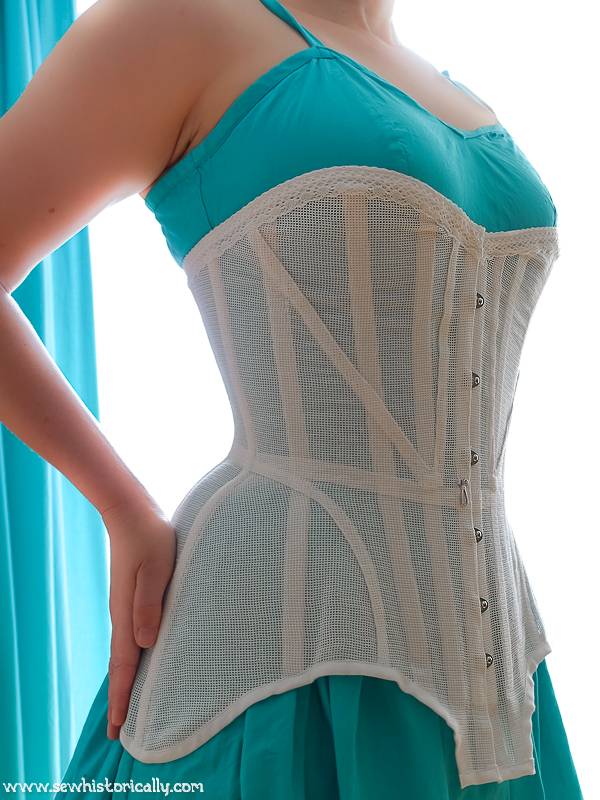 3. Don't Wear A Full Costume!
This is similar to the first tip except that you wear more than one piece of vintage or historical clothing, e.g. a 1950s dress or an Edwardian blouse and skirt.
But to make the look not too costumey omit all the necessary details for a full costume. So don't put your hair up into a matching historical hairstyle. Also, don't wear the necessary details for a full costume like a matching hat, shoes and jewelry. And for an even more casual look wear your vintage or historical pieces with modern underwear instead of historical underwear.
4. Style It In A New Way
Another tip to make your vintage and historical dress look less old-fashioned is to style it in a new way. For example, don't wear an Edwardian shirtwaist blouse tucked into the skirt. Instead, tie the blouse at the waist for a more modern look.
5. Choose Pieces That Look Modern
Some vintage and historical pieces already look very modern. For example, Edwardian sweaters, 1920s summer dresses, 1920s coats, short Edwardian walking skirts – all these pieces of clothing already have a very modern look to it.
Related: The Edwardian Sweater Girl + 25 Free Edwardian Sweater Patterns
6. Wear Historically-Inspired Clothing
Wear clothes that have historical sewing details like a corset top with boning and lacing or a skirt with cartridge pleats.
Related: 10 Types Of Corset Boning For Historical Corsetry & How To Sew Cartridge Pleats
7. Wear Historical Accessories With Modern Clothing
Instead of historical clothing, you can focus on historical accessories and wear them with your modern clothing. For example, you could wear an Edwardian dip waist belt with a modern dress or pants.
Or you can just wear a piece of vintage or historical jewelry like a 1920s knotted necklace.
Related: How To Make A Knotted Pearl Necklace – Tutorial With Video

8. Historical Embroidery
Or if embroidery and lace making is your thing, you can embroider your modern clothing with vintage and historical embroidery, like 18th century surface embroidery or Victorian handmade broderie anglaise eyelet lace.
Related: How To Make Broderie Anglaise Lace By Hand & 18th Century Embroidered Stomacher
You can try different historical embroidery and lace making techniques to embellish your clothes and see what's your favorite technique. Some of these historical embroidery and lace making techniques are almost forgotten today like Edwardian bermuda fagoting or handmade 1920s tape lace.
Or you can crochet a lace yoke to embellish your modern dress or top. These lace yokes are relatively quick to make and look cute without looking too costumey.
9. Historically-Inspired Fashion Trends
Modern clothing is often inspired by past fashions. A couple of years ago after The Great Gatsby movie, modern summer dresses suddenly started to look like 1920s dresses.
And right now, Edwardian fashion is back in fashion: The new Edwardian aka modern Edwardian fashion. Now you suddenly see everywhere long Edwardian-style dresses and skirts and Edwardian-style sweaters with high necks and bishop or leg-of-mutton sleeves!
So to avoid looking too costumey you can choose historically-inspired garments that are trending right now.
10. Historical Hair & Make-Up
Instead of wearing a historical clothing with a modern hairstyle, make-up & accessories, you can also go the other way and wear modern clothing with a historical hairstyle & make-up. For example, a modern version of the Edwardian pompadour hairstyle is back in fashion again!
Related: 50 Edwardian Pompadour Gibson Girl Hairstyles & 200+ Historical DIY Natural Beauty Products
11. Wear A Full Costume
And last of all, if you want to wear a head-to-toe vintage outfit or historical costume, there's no reason why you shouldn't! 😉 Just be confident and wear it.
Please Pin It!