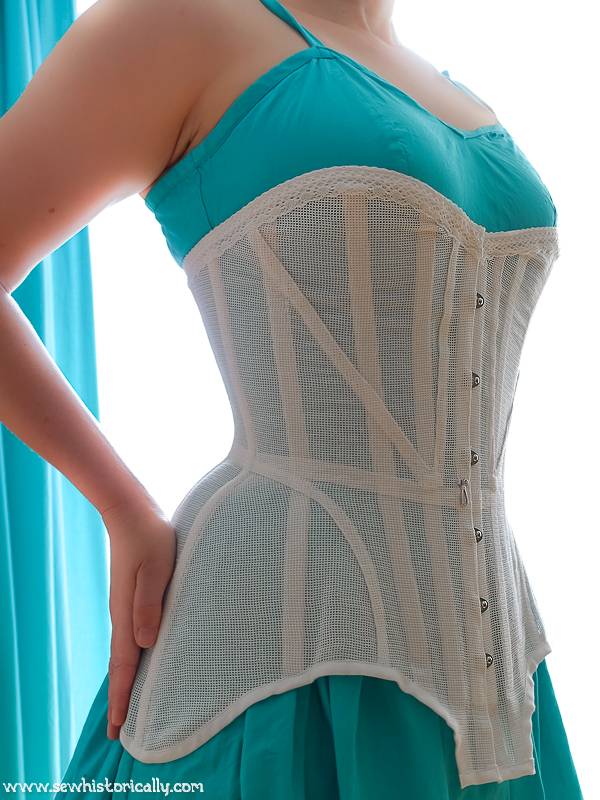 I wanted to make an Edwardian summer net corset for years but I couldn't find a suitable net fabric. But now I finally found a cotton net fabric and could make my Edwardian cotton net summer corset. Yay! 😀 I'm so happy how it turned out: It's so comfy!
Leno-Weave Net Corset Fabric
For my Edwardian summer corset I had to find a fabric made of natural fibers – cotton or linen – with holes that don't disappear after washing – which is typical for fabrics that are not true leno-weave fabrics – and is also sturdy enough to be suitable as corset fabric.
The fabric of historical summer corsets was usually called 'summer netting'. Here's an ad for a summer netting corset from 1908 and here's another ad for different summer corsets from 1900. If you look at antique summer net corsets, you see that it's a special kind of leno-weave fabric with crossed threads like here. However, you can't buy a similar leno-weave net fabric today – and I've been looking for such a fabric for years now!
But last autumn I finally found a leno-weave cotton net fabric – it doesn't have the typical crossed threads but it still works: Similar leno-weave fabrics were already used in the Victorian and Edwardian era for summer corsets. This 1900s summer corset at the V&A is made of a similar leno-weave net fabric just like this Edwardian summer corset for a young girl.
The fabric is actually cotton Aida cloth embroidery fabric (Zweigart twist). By the way, most embroidery fabrics aren't true leno-weave fabric but this one is! Yay! 😀 And the fabric is really sturdy, even after washing, so it's suitable as corset fabric. So double yay!
By the way, if you're wondering if you can use cotton bobbinet tulle for historical summer corsets: No because cotton bobbinet tulle is much too flimsy so that it wouldn't shape the body at all. Cotton tulle is a typical material for handmade lace. I use cotton bobbinet tulle to make handmade Limerick lace.
Related: How To Make Limerick Lace By Hand
Edwardian Summer Corset Inspirations
My main inspiration for all sewing details was this Edwardian cotton mesh summer corset and this late Victorian cotton net summer corset.
And I pinned all inspirations for my Edwardian summer corset to my pinterest board "1900s Lingerie".
Self-Drafted Corset Pattern
Because the Edwardian cotton net summer corset is so sheer, the placement of the seams and boning channels is very important. Therefore I drafted my summer corset pattern so that most of the seams are hidden (and reinfored) by the boning channels. All seams basically disappear except the diagonal seam of the bust gusset and the curved seam of the hip gusset. I drafted those seams exactly like the seams of this antique Edwardian summer corset.
Single Layer Summer Corset & Seams
My Edwardian cotton net summer corset is a single layer corset. Unlike modern corsets, most historical corsets are made of only one fabric layer. The fabric panels of historical single layer corsets were usually joined with lapped seams whereas most corsetieres today use flat felled seams because it's easier and faster. Both seams look exactly the same when finished but they're made differently.
After using true lapped seams for my Edwardian batiste summer corset, which is also a single layer corset, I thought never again: 😉 Lapped seams and the curves of Edwardian corsets don't go well together! So for this Edwardian cotton net summer corsets I used flat felled seams instead.
Related: Edwardian Batiste Summer Corset
Corset Boning & Waist Tape
In contrast to my heavily steel boned Edwardian coutil corset, I used synthetic whalebone boning for this corset. This made my Edwardian summer corset so much more comfortable! And it still creates a perfect Edwardian S-curve figure. 😀
Related: Edwardian Coutil Corset
For the boning channels, I used historically accurate white cotton twill tape. I also used the twill tape to bind the edges of the corset, and as waist tape because I feared the aida cloth fabric might stretch. But the fabric doesn't stretch so the waist tape is actually superfluous.
Edwardian Hip Pad
To enhance the S-curve silhouette even more, Edwardian women often wore a hip pad. In some of these pictures (in all pictures except where I'm wearing the corset over my turquoise dress) I'm also wearing my Edwardian hip pad under the corset. Actually, I didn't intend to wear a hip pad under the corset. So I drafted the corset pattern that it fits without a hip pad: That's why the lacing is no longer parallel when I wear the hip pad underneath. But I love the fashionable Edwardian shape the hip pad creates: big hips and butt with the unnatural bend in the back like here!
Detachable Garters
Garters were an essential part of Edwardian straight front corset to keep the corset front straight. Edwardian garters were either sewn to the corset or they were separate. Detachable garters were either buttoned to the corset or even more often they were simply attached with safety pins like here or here! I made detachable garters with safety pins. I also made the garters for my 1900s summer corset plainer and sportier than the garters of my Edwardian silk corset.
Related: Edwardian S-Bend Silk Corset
Corset Hook
Like on my Edwardian sports corset, I also added a corset hook at the center front of the corset like here or here. This metal hook or dagger kept the dip waist of Edwardian skirts down. With this hook my Edwardian dip waist skirts finally stay in place, yay! 😀
Related: Edwardian Unboned Sports Corset
However, this time I used a different metal hook. It's actually the eyelet part of a large hook & eye set. The shape is dagger-like and works perfectly as corset hook! 😀 In contrast to the hook I used for my Edwardian sports corset, this large metal eyelet only required minimal reshaping with pliers.
I love how my Edwardian cotton net summer corset turned out! 😀 It's flexible and so comfy. And I'm really curious when I wear my corset this summer if it's really cooler than regular corsets!