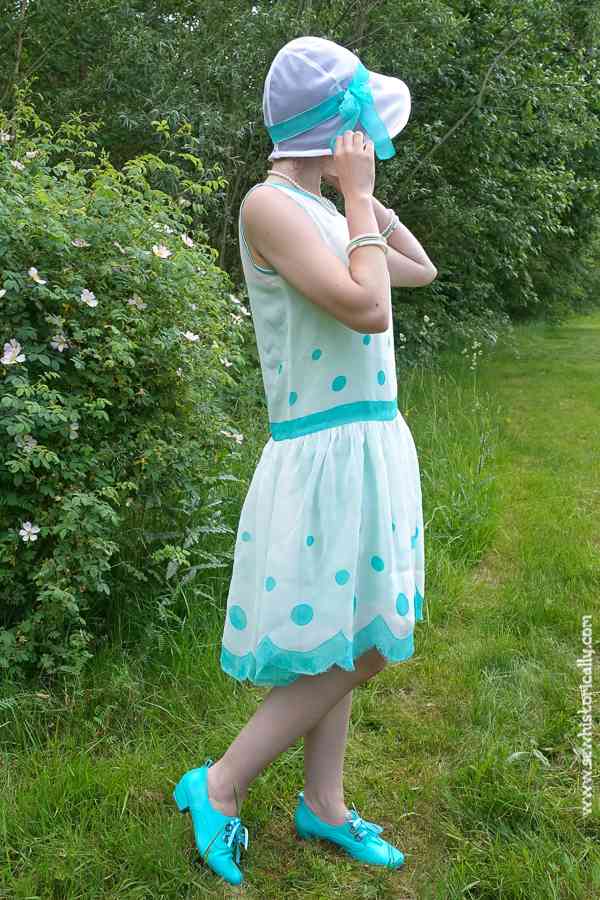 I love this pretty antique 1929 polka dot dress. And because I couldn't find a suitable fabric to make the dress I finally decided to paint my own fabric! 😀
Fabric & Sewing Details
I used white viscose (rayon) crepe chiffon fabric – a fabric that was very popular for summer dresses in the 1920s.
I used my self-drafted 1920s dress pattern and cut out the pieces for the dress. Then I finished the dress partially. I sewed the shoulder seams closed and gathered the skirt part to the bodice of the dress. I also finished the scalloped hem with my 1920s imitation picot hem.
Related: 1920s Imitation Picot Hem Tutorial
But I left the side seams open to make the painting easier.
Hand-Painting My 1920s Polka Dot Dress
I wanted my 1920s hand-painted polka dot dress in mint green and white. So I bought fabric paints in green, blue, white and also thickener to mix the color I wanted. 😀
I partly painted the dress freehand, and partly I used the fabric paint lid or cut out paper stencils to mark the position and size of the polka dots.
It took so long to paint the whole dress! And because my table was only big enough for a part of the dress, I had to wait until that part was dry before I could paint the next part. So it took some days to paint the whole dress. And my back hurt badly afterwards! 😉 And then came the boring ironing to heat set the fabric paint. But then I finally could sew the side seams closed.
Refashioned 1920s Dress
At first, I made my hand-painted 1920s dress with long sleeves. But I never wore it because it was either too hot or too cold to wear a dress made of thin fabric with long sleeves. So after a couple of years I decided to refashion my hand-painted dress.
I removed the sleeves and bound the neck and armscyes with self-fabric bias binding which I painted to match the color of the polka dots. I also made the dress smaller at the sides and shortened the skirt.
Then I used the leftover fabric to make hand-painted bows for the dress and hat. The refashion was a lot of work again but I think it was worth it: The dress fits so much better now and I can finally wear it this summer! 😀
1920s Accessories For My Hand-Painted 1920s Dress
In these photos, I wear my hand-painted 1920s polka dot dress with my DIY chiffon fabric cloche hat.
Related: 1920s Sheer Summer Cloche Hat
I also wear my 1920s-style hand-knotted pearl necklace.
Related: How To Make A Knotted Pearl Necklace – Tutorial With Video
And because my 1920s dress is very sheer I wear it over a mint green 1920s-style slip.
Related: My 1920s Slips & How To Make A 1920s Slip
In some of the photos I also wear my matching hand-painted mint green shoes.
Related: How To Paint Shoes