In this part of my 1950s embroidery series, I have various samplers with soutache and ribbon trims for you; all sampler were made between 1950 and 1952.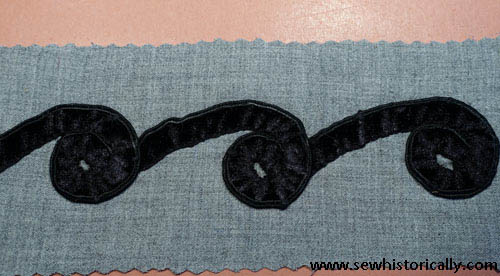 The first sampler is a black velvet ribbon scrollwork border on thin grey wool fabric.
The velvet ribbon was gathered by hand and also attached by hand.
There's also a black soutache stitched around the scrolls to make the scrollwork embroidery stand out even more.
Next is a 1951 sketch for various velvet ribbon ideas: The velvet ribbon is folded or pleated so that sometimes the shiny velvet side is up, and sometimes the dull taffeta side is up. The ribbon folds are stitched down with seed beads or sequins.
The next sampler is embroidered with soutache.
The soutache braid is applied in a freehand scrolling pattern.
The soutache trim is stitched down by hand. Here's the wrong side of an 1860s wool paletot where the soutache is also applied by hand.
And another 1951 sketch: a cut out rectangle in the fabric is filled with self-fabric strips or ribbon lattice work. This would be pretty at the hem of a dress or skirt.
The last sampler is embellished rick rack embroidery.
The red and yellow rick rack ribbon is stitched down with embroidery stitches by hand.
Here's part 11 (trapunto quilting) of the 50s embroidery and sewing series.