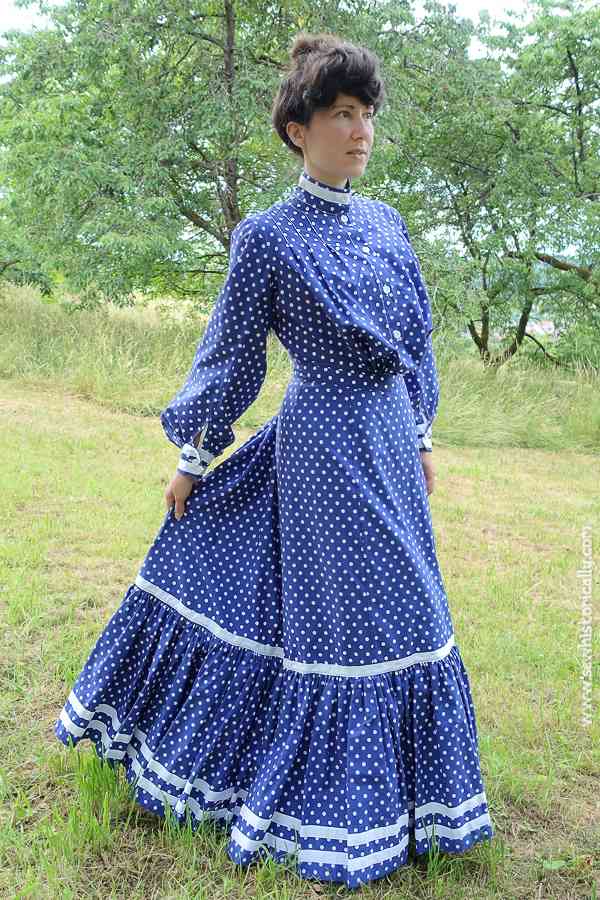 After making an Edwardian cotton wash dress a couple of years ago, I now made another Edwardian cotton dress. 😀 It's an early Edwardian dress with a separate bodice & skirt, tucks at the front and pintucks at the back of the bodice, wide bishop sleeves and a tulip skirt with a wide hem circumference and a ruffle at the bottom. As always I used a self-drafted pattern based on antique Edwardian sewing patterns and made the dress as historically accurate as possible.
Related: Edwardian Gingham Wash Dress

'There is a decided vogue for plain little dresses, but they must be just right, or they will look dowdy, and they must possess a freshness that is almost crisp, for on this dainty simplicity all their charm depends.' (Every Woman's Encyclopaedia, 1910-2)
Edwardian Wash Dresses For Housework
This type of dress was called wash dress or tub frock in the Edwardian era because it was washable. And by the way, not all Edwardian dresses were washable! 😉
'The tub frock has usurped a large proportion of the affections of those women who desire the maximum of smartness in dress with a minimum of expense. Not that washing dresses are always the cheapest investment in the end, for frequent visits to the laundry cannot be achieved without cost, nor do such visits tend to prolong the life of a gown' (Every Woman's Encyclopaedia, 1910-2).
A dress like this was worn for housework, especially in the mornings. Women of all classes had at least one wash dress. While lower class women had plainer cotton wash dresses, wash dresses of richer women could be embellished with lace and hand embroidery. My Edwardian cotton wash dress is a rather heavy duty work dress with only a few embellishments like the white cotton twill tape.
'Every girl should try to dress in keeping with the work that she is doing. It would look very inappropriate […] to see a woman or girl at work in the house dressed in worn-out finery.' (School Sewing Based On Home Problems, 1916)

'A neat gingham dress reaching to the ankles and wide enough for free movement of body, will clothe a woman appropriately and leave her mind and body free and the work will go forward pleasantly and smoothly.' (American Homemaker Magazine, 1909)
According to Ich Kann Schneidern (1908), a woman should look neat and feminine in the house. But she should also wear practical, washable cotton dresses when doing housework in the mornings. Wearing old, worn out wool dresses for housework was considered bad taste and unhealthy because sweat, dust and kitchen smells could never be removed.
Related: How To Dress In The Edwardian Era

'Have good sensible working clothes, and you will be a better economist than you will be by wearing out your "tailor-made" around the house.' (American Homemaker Magazine, 1909) 'The custom of wearing old afternoon dresses in the morning should be banned by every well-dressed woman.' (Every Woman's Encyclopaedia, 1910-2)

'It is important that a lady should always dress neatly at home. She is then ready to receive a morning caller without having to change her dress.' (Household Companion: Book Of Etiquette, 1909)
Inspirations For My Edwardian Blue Polka Dot Cotton Dress
My Edwardian blue polka dot cotton wash dress is inspired by the following antique Edwardian dresses:
'Women's polka dot one-piece house dress; has box pleat down centre and tucks either side, buttoned cuffs; unlined; the skirt is gored and has flounce around the bottom; waist and skirt are attached with belt of self. Colors are black with white, navy with white, white with black or white with navy' (House Dress Ad, 1909).
Sewing Pattern & Fabric
I used my usual self-drafted Edwardian skirt and shirtwaist pattern which are both based on antique Edwardian patterns. I've already used the patterns for my pink gingham wash dress and other Edwardian dresses and petticoats.
However, for my Edwardian blue polka dot wash dress I adapted the shirtwaist pattern to make it fit better around the waist: I raised the waistline, changed the placements of the gathers at the front, reduced the width at the back and raised the armscyes. I also added shaped bishop sleeves instead of the usual straight shirtwaist sleeves. Only for the bishop sleeves I used a commercial sewing pattern which I adapted to make it fit the armscyes and cuffs of my self-drafted pattern.
For my Edwardian cotton dress, I used 8 meters of blue & white polka dot cotton fabric and countless meters of white cotton twill tape.
'Buy designs that are rather dark but bright, the color predominating rather than white. […] Always have in mind the laundering qualities. A very light material is foolish because it soils so soon and you defeat your purpose in your choice of material.' (American Homemaker Magazine, 1909)
Edwardian Polka Dot Wash Dress – Sewing Details
As always I tried to make the dress as historically accurate as possible using period sewing techniques and finishes.
My Edwardian wash dress is an early Edwardian dress. It has wide bishop sleeves which were popular in the early Edwardian era (1901-1903).
Related: 1900-1909 Edwardian Fashion Timeline
The skirt is gored with an 8 meter long gathered self-fabric ruffle cut on the straight grain: In contrast to the circular flounces and bias ruffles of Edwardian wool or silk skirts, ruffles of cotton skirts and petticoats were usually cut on the straight grain. This kept the fabric from distorting and the ruffle from sagging after washing and ironing the cotton dress.
Like most antique 1900s cotton dresses, my dress has a wide hem like on this 1900s blue striped cotton dress: This stiffens the hem and helps the skirt drape well. Because the hem is shaped, I folded the excess fabric for the hem into small pleats:
'Baste the hem in position, as marked, make it even, using a gauge or strip of cardboard as a guide; lay the extra fullness in small pleats, pin, baste and stitch the hem in place.' (School Sewing Based On Home Problems, 1916)
I attached the ruffle on top of the skirt and I didn't cut away the skirt under the ruffle. So there are two fabric layers at the bottom of the skirt: the skirt & the ruffle. This makes the skirt rather heavy but it also helps to shape the skirt into a fashionable early Edwardian skirt silhouette.
And by the way, my wash dress would've been considered a short dress in the Edwardian era! 😉 Because most early Edwardian skirts – even walking skirts – trailed on the ground like my Edwardian wool walking skirt. But the skirt of my Edwardian wash dress is only ankle-length: without shoes it's 5cm off the ground all the way around.
'It is a safe rule that all tub frocks should be short […] The dress that depends on its spotlessness for its charm must certainly not trail – in fact, for the youthful wearer ankle length is permissible and very smart.' (Every Woman's Encyclopaedia, 1910-2)
All seams of the bodice and skirt are flat felled seams. And I finished the raw edges at the placket and skirt waistband with white cotton twill tape. This makes flat seams and also reinforces the placket and waistband.
Related: 34 Types of Seams – Historical Sewing

'Every housewife should have a clean fresh house dress each week; a dress solely for this purpose […] Don't improvise or get some fancy pattern of a "house dress," some princess design that is a house dress in name only, but select a straight seven gored skirt, with a pleat or two at each seam with a deep hem or a couple of tucks on the bottom. […] Make the waist on a shirt waist pattern, easy and loose. Have the bands on both skirt and waist an inch or two larger than for your dress-up dresses' (American Homemaker Magazine, 1909).
I gathered the fullness at the front of the bodice into a self-fabric waistband and added a circular peplum under the waistband like on this Edwardian cotton dress. Peplums of Edwardian two-piece dresses were always worn inside the skirt. The peplum is just there to keep the shirtwaist tucked in and to make the hips and butt appear even bigger and therefore more fashionable according to the Edwardian beauty ideal! 😉
Button Closure
The bodice of my Edwardian cotton dress is closed with buttons. 1900s wash dresses usually had button closures – no hooks & eyes or snaps – because buttons didn't rust in the wash. Buttons were either mother-of-pearl buttons or made of early types of plastic like celluloid or Galalith.
'Button and button holes are the best, or the hear-it-snap fastenings. Hooks and eyes are poor things on a wash dress, they are constantly being pressed down with the iron.' (American Homemaker Magazine, 1909)
I also thought about closing the skirt placket with buttons like on this antique Edwardian cotton skirt. But then I used the typical Edwardian skirt closure again: hooks & eyes to close the skirt waistband and snaps to close the skirt placket. Almost all antique Edwardian skirts had this type of closure.
How To Keep The Separate Bodice & Skirt Of 1900s Two-Piece Dress From Slipping Around
Dresses in the early Edwardian era usually had two pieces: a separate bodice and skirt. Dresses became one piece-dresses only in the later Edwardian era. However, there's a problem with two-piece dresses because they always shift around when you move: The bodice rides up and the skirt slides down at the back because of the weight of the inverted box pleat.
But the Edwardian knew different ways to keep the separate bodice and skirt together and in place. 😀 Most Edwardian corsets had a hook or dagger at the center front to keep the skirt down in front and up in the back. Also, most bodices had a waist tape and boning inside (not wash dresses however).
'There must be no undue stiffness, no tailor's canvas and linings, which are impossible to launder.' (Every Woman's Encyclopaedia, 1910-2)
In addition, skirt and bodice were connected at the center back waist with hooks & eyes or buttons. This all keeps Edwardian two-piece dresses from slipping around.
I've often used hooks & eyes to connect the bodice and skirt of Edwardian dresses, like on my Edwardian shirtwaist costume and my short Edwardian cotton dress. But this time, because it's an Edwardian wash dress, I wanted to use buttons instead like on this beautiful antique blue & white striped Edwardian wash dress. So the bodice and skirt of my Edwardian blue polka dot dress are connected with two buttons and buttonholes at the center back. By the way, the separate belt hides the buttons so they're invisible.
Related: Edwardian Shirtwaist Costume & Short Edwardian Cotton Dress
Pintucks & Tucks
My Edwardian polka dot dress has pintucks at the back because they help to keep the back of the bodice flat. And it has three wide tucks at either side of the placket at the front of the bodice like here to create the fashionable Edwardian pouter pigeon shape.
White Stitching
While I used blue cotton sewing thread for the skirt, I used contrasting white thread for the bodice inspired by this antique Edwardian blue silk dress at the RISD museum and this antique Edwardian blue calico dress with white dots. And to make the white stitching even more visible, I used two white cotton sewing threads together as upper thread.
White Trim
'The correctly made tub frock is never fussy. No flapping draperies should be allowed, merely trim lines' (Every Woman's Encyclopaedia, 1910-2).
I embellished my 1900s cotton dress with white cotton twill tape. The following antique Edwardian dresses with white trim were my inspiration: Edwardian blue silk dress, 1904 pink cotton dress, Edwardian royal blue yachting dress, 1902 girl's blue sailor dress, Edwardian girl's blue cotton print dress and antique blue calico wrapper.
And a quick tip so you don't make the same mistake as I! 😉 I assumed cotton seam tape (cotton twill tape) is prewashed and doesn't shrink. But you not only need to prewash the fabric, you also need to prewash cotton tape because it shrinks a lot during the wash! I used high quality herringbone cotton seam tape and it shrinked a lot: 1m seam tape was 4cm shorter after washing it at 40°C! I've already sewn a couple of meters of the tape to the fabric and had to remove it again – I hate unpicking seams!
Two Separate Belts
I made two separate Edwardian dip waist belts for my Edwardian cotton dress. One is made of white cotton twill tape: it's inspired by this blue Edwardian summer dress with a belt matching the cotton trim of the dress.
And the other belt is a faux wrap belt made of the same fabric as the dress. The Edwardian faux wrap belt is inspired by this 1900s blue silk dress with a wrap belt at the RISD museum, this antique dress with a faux wrap belt and these 1904 wrap belts. For the belt I used contrasting white sewing thread again like I used for the bodice of the dress.
'Many wearers of tub frocks come to grief over their waist-belts. […] The tub frock for morning wear should never have a "dressy" belt […] The belt should be of the "simple life" order. […]

Those who do not care for leather belts can have one made of the linen of the dress. This should be made upon stout webbing […] Beware, however, of thinking that the simple effect is easy. Care should be taken to mount the ribbon or webbing, and adjust a serviceable hook and eye, so that the effect is trim' (Every Woman's Encyclopaedia, 1910-2).
Edwardian Underwear
'The perfection of finish of a' tub frock 'depends very much upon the details that seem least in evidence-that is to say, the shoes, stockings and underskirt of the wearer. […] Let them be as immaculate and well-fitting as the dress itself' (Every Woman's Encyclopaedia, 1910-2).
In the Edwardian era, it was recommended to wear as little underwear as possible with a wash dress, that is: a shift, corset, corset cover, stockings and one petticoat.
I wear an Edwardian shift, my Edwardian unboned sports or health corset which also doubles as a corset cover, and my refashioned short Edwardian lace petticoat under the dress. I also wear black cotton stockings and Edwardian-style black leather lace-up boots.
Related: Edwardian Unboned Sports Corset & Refashioned Edwardian Lace Petticoat
Edwardian Pompadour Hairstyle
In the Edwardian era, the pompadour hairstyle was all the rage! However, with a work or house dress you usually wore a plainer, less elaborate but still fashionable version of a pompadour.
I curled my hair using the Edwardian pin curling method. Then I put my hair up into an authentic Edwardian everyday pompadour hairstyle which is close at the sides and back with a moderate pompadour at the front.
Related: Edwardian Pin Curl Tutorial & How To Make An Authentic Edwardian Pompadour Hairstyle