If you read my blog regularly, you know that I'm more drawn to historical lower class everyday clothing, especially rural working woman costumes. This is my newest peasant woman outfit: It consists of an unbleached chemise, unboned rural stays, bumroll and dyed-by-me corded petticoat and tucked skirt. An outfit like my historical farm girl outfit would've been worn in the 18th century or early Victorian era. And without the bumroll the working class woman costume is even suitable for the Edwardian era.
18th Century Shift
Because my last 18th century shift wasn't very historically accurate, I made another 18th century shift. I used unbleached cotton fabric instead of linen fabric because there was no ban on cotton fabric in the 18th century where I live. My shift is inspired by the following antique 18th century shifts at the MET, MFA & V&A museums: 18th century chemise, antique linen shift, 18th century or early 19th century linen shift and 1740-80s shift.
My 18th century shift has the typical triangular fabric inserts at the lower side seams (you can see them in the photo above). These fabric inserts were used to save fabric because you used the scraps that were leftover from making the shift: Because fabric was expensive in the 18th century, 18th century shifts were cut and made in such a way that no fabric was wasted.
Unboned Rural Stays
For my unboned rural stays, I used the same pattern that I used for my working woman black wool stays. But this time I used black cotton twill fabric instead of wool. Because the fabric is rather thin I used two layers of the black twill fabric and one layer unbleached calico as lining.
However, the black cotton fabric attracted a lot of lint and dirt. Therefore I took a carding brush with metal bristles and brushed one side of the cotton fabric to raise the surface fibers. Fabrics for heavy-duty workwear were often brushed in the past (e.g. moleskin). My DIY brushed cotton fabric is now much more lint- and dirt-repellent and looks and feels a bit like wool fabric!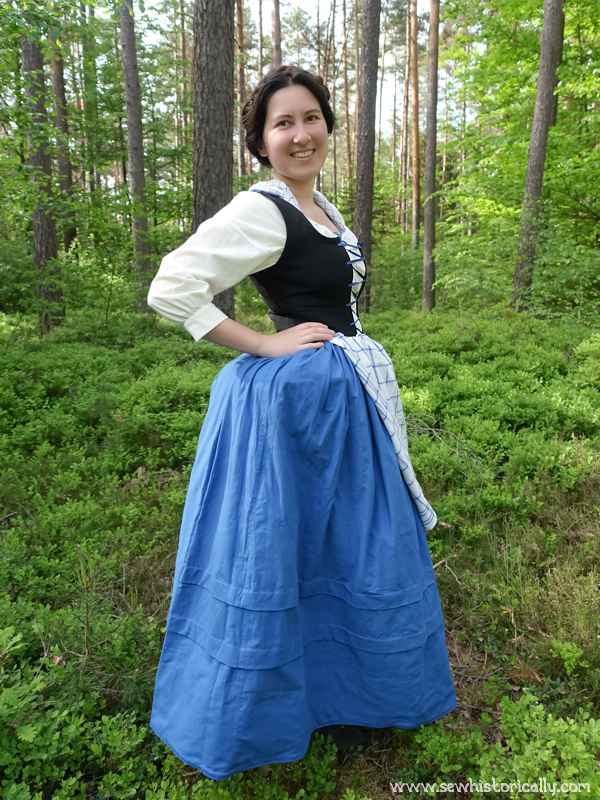 The rural stays are unboned except for two synthetic whalebone bones at the front. Unboned or corded stays often wrinkle. But even though the peasant stays are unboned, there are almost no wrinkles because the fabric layers are stiff enough without boning and the stays fit well. However, the two bones at the front are essential to keep the edges of the stays straight:
'The necessary bones are as follows: […] Two bones at the extreme ends, to prevent the holes from bursting beyond the edge. […]

It is as well to observe that unless particularly feeble […] it is most desirable to wear as few bones as possible; and that for healthy persons, the two back bones, with the steel in front, are quite sufficient.' (The Workwoman's Guide, 1838)
Instead of the rural stays, I can also wear my 18th century chintz stays.
Lacing Cord & DIY Aglet
The peasant stays are closed with spiral lacing at the center front. And so that I can lace the stays easier, I made DIY lace tips. But instead of my usual DIY metal aglets, this time I finished the end of the lacing cord with whipping. I often use whipping for my DIY rope dog leashes! 😉 But here I used cotton sewing thread for the whipping. This DIY thread aglet works just as well and won't rust when I wash the stays in the washing machine!
By the way, the lacing cord looks like silk but is made of rayon (natural cellulose fibers). It was a lucky find because it's pretty difficult to find natural, strong silk or silk-like lacing cords and ribbons these days – it's usually all non-historically accurate polyester ribbon today! The rayon satin ribbon was off-white before but I dyed it to match the blue of my skirt.
Bumroll
In the 18th century and early Victorian era, women often wore a bumroll in combination with corded petticoats to create the fashionable wide bell-shape skirt silhouette.
Click on the link below for my tutorial on how to make your own 18th century bumroll.
Related: How To Sew A Bum Roll
In the photo above, I'm not wearing the bumroll, whereas in the photo below I'm wearing the bumroll: You can see what a difference it makes! 😀
Corded Petticoat – Refashioned, Dyed & Stiffened With Hemp Cord
My 18th century corded petticoat already was an 18th century petticoat before. But because the hem circumference wasn't wide enough for an 18th century or Victorian petticoat, I cut it apart and sewed it together differently so that the hem circumference is now wide enough!
Related: DIY Victorian Corded Petticoat
By the way, the rural corded petticoat was beige before because I'd dyed it with sloe berries. But I didn't like the color anymore so I overdyed it with turquoise fabric dye which made the petticoat green. However, I still didn't like the color, so I overdyed it again with royal blue fabric dye and the cotton fabric turned this bluish green color you see now!
After sewing the skirt back together, I stiffened the hem with blue cotton fabric and hemp cord on the outside and sturdy cotton twill fabric on the inside. By the way, the black cotton twill facing was white before: I dyed the fabric with tannin-rich plants, iron and indigo. I used the fabric that I dyed in the tutorial below.
I also trimmed the skirt with blue cotton fabric bands which I stiffened with hemp cord at both edges. My inspirations were the short skirt with contrast colored bands in this Victorian painting by John Faed, these skirts and this skirt in the 1797 hand-tinted engravings.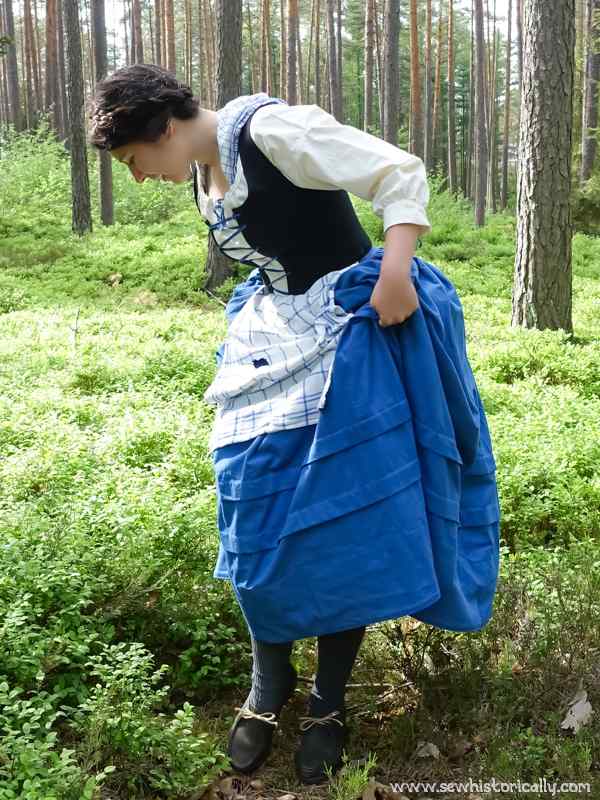 Tucked Skirt – Made From A Bedsheet & Dyed
The 18th century royal blue tucked skirt was a beige cotton bed sheet before. I dyed the bed sheet blue and sewed it into a skirt. Then I decorated and stiffened the blue cotton skirt with wide tucks and a wide hem facing. This antique blue skirt with tucks and the peasant girl outfit in this Victorian painting by William Adolphe Bouguereau were my main inspiration.
The skirt is simply a large rectangle: I gathered the fullness of the skirt into a cotton twill waist-tape with cartridge pleats.
Related: How To Sew Cartridge Pleats
I love how my historical peasant woman outfit turned out! 😀 And it's very comfy to wear because it's made of only natural materials: cotton, hemp and rayon.