I recreated this pretty 1920s beaded silk blouse for the Historical Sew Monthly challenge 1. I admired the blouse for a long time, but wasn't sure if I should recreate it, so it's perfect for the challenge 'procrastination'.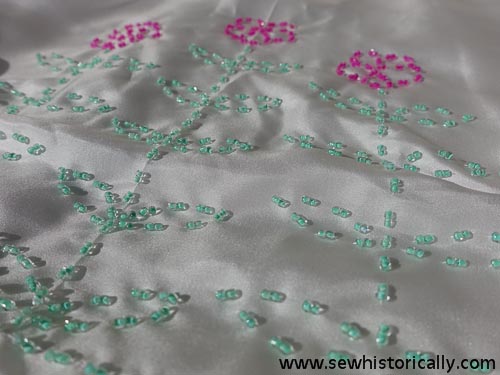 I didn't want the blouse in green and didn't like just beaded leaves. Here I saw a pretty 1920s beaded blouse with flowers, so I thought I'd replace some of the leaves with flowers.
As I had suitable white habutai silk in my stash and I like mint green and pink, I thought I'd use mint green beads for the leaves and pink for the flowers.
I drew different designs with Paint to decide which I liked best. Then I made my own 1920s blouse pattern, hoping that the finished blouse would be similar to the 1920s blouse. The blouse has kimono sleeves and is gathered at the side hips into a hip band.
I cut out the leaf shapes at the neckline and finished the neck with self-fabric bias binding. I guess the cutwork would've been finished with a picot hem in the 1920s, but as I have no hemstitching machine, I just zigzagged it.
I finished the scalloped sleeves with an imitation picot hem.
Then I beaded the blouse freehand (I didn't draw the design prior to beading). I just pressed a crease down the center of the blouse so that the middle stems would be on a straight line. I also wanted to add the beaded cutwork at the bottom of the blouse, but sadly there was no space left because my blouse is gathered differently than the 1920s model.
At the back, the blouse is just beaded at the neck, sleeves and hem. As the back of the original 1920s blouse isn't photographed, I could just guess how much beadwork there'd be. But 1920s blouses are often just beaded at the front except for the neck, sleeves and hem.
The lady's smock and cherry trees were in full bloom, and I think they're a perfect backdrop for the floral blouse. 🙂
I'm wearing the blouse with my 1920s pink pleated rayon skirt. And as the blouse is very sheer I'm wearing my 1920s pink slip underneath.
Challenge: 1 – procrastination
Fabric: off-white 100% silk fabric
Pattern: my own
Year: mid-20s

Notions: seed beads in mint green and pink
How historically accurate is it? Accurate
Hours to complete: 3:45 h sewing time, 10:25 h for the beading
First worn: some days ago
Total cost: none, as I had everything in my stash