Learn how to refashion your old clothes! Refashioning is perfect if you want to be more eco-friendly in your sewing and make creative, unique garments! And if you're a sewing beginner, you can learn a lot about how clothes are made by refashioning your old clothes. Below are 10 tips on how to refashion your clothes if you're just getting started with refashioning. 😀
1. Pretend It's Fabric
Instead of refashioning a piece of clothing, you can just treat your old clothes as a piece of fabric. Just cut the garment open along the seams. Then treat this as if it were just small scraps of fabric. Now use the small fabric pieces to sew something new.
Related: 4 Tips When You Don't Have Enough Fabric For Your Sewing Project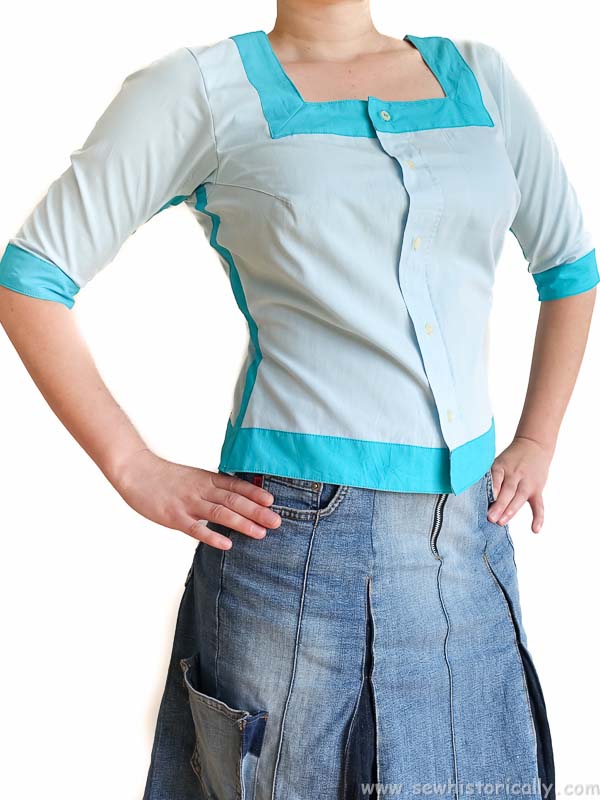 2. Make It Fit Again
Before you start your first full refashion, simply make an old garment fit again, for example by taking in the seams at the sides. Or add a piece of fabric to make a too short dress longer. Or cut too small pants or skirts open at the side seams and add a piece of fabric to make it bigger.
3. Notice How Clothes Are Made
When you're a sewing beginner, notice what shape the different pattern pieces have and how the seams are made. You can learn a lot from refashioning your clothes. I'm a self-taught sewist and this is how I learned to sew my own clothes and draft my own sewing patterns! 😀
Related: 34 Types of Seams
4. Only Use The Good Parts
If you finally want to start your first full refashion, don't waste your time and energy by using too worn old clothing. After ripping open the seams, look for holes and thin fabric areas. Only use the good parts of the old clothes.
5. Start With Simple Shaped Garments
If you're a sewing beginner, don't choose a too complicated sewing pattern. Start with simple shaped clothes like a sundress, a flowy summer top or an A-line skirt.
6. Use Well-Fitting Garments As Pattern
Instead of buying a sewing pattern, you can simply use a well-fitting piece of clothing as sewing pattern.
7. Don't Overthink & Don't Try To Be Perfect
If it's your first refashion, don't overthink it and don't try to be perfect. Also, don't worry if you're good enough at sewing. Chances are that if you're also a sewing beginner that the seams won't be perfectly straight on your first refashion. But they don't have to be! Mine certainly wasn't when I started sewing many years ago! 😉 And you'll get better with each refashion.
8. Use A Suitable Sewing Stitch
Use a suitable sewing stitch to join the seams of your refashions. For woven fabrics (without stretch), use straight stitches on your sewing machine or running stitches if you're hand sewing. For stretch fabric, like jersey knit T-shirt fabric, you need a stitch that can stretch with the fabric: Use zigzag stitches on your sewing machine or overcast stitches if you're hand sewing.
Related: 5 Ways To Reuse Old T-Shirts
9. Leave The Edges Raw
Especially, if you're refashioning denim clothes or knit fabric clothes, you can leave the edges raw to save time. Both of these types of fabric don't unravel easily. And personally, I love the soft, casual look: so I often fray the hems of my refashioned denim clothes.
10. Patch It Up!
And last but not least, if you accidentally cut into the fabric while ripping the seams, you can patch it up with applique. This might even turn out to be your favorite detail of your refashioned garment! 😀