'With Christmas [1912] "in the air" one's thoughts naturally turn to frocks and the many odds and ends of dress which play an important part in those festivities which cluster around the season; for to a woman a not inconsiderable part of a pleasure depends on the knowledge that she is suitably garbed.' (source)
This teal and blue 1910s evening dress I've sewn around Christmas some years ago.
1910s evening dresses were often richly embroidered with sequins, beads, and beaded tassels.
I'd bought this lovely sequined, embroidered, petrol blue fabric some time ago and thought it'd make a pretty post-Edwardian evening gown.
I had some royal blue chiffon left in my stash which I've used for the kimono sleeves.
1910s dresses have a high waist, and the skirts are much narrower than in the Edwardian era. The skirts are tight in front with pleats or gathering at the back.
Here are four similar colored 1910s evening dresses: 1912 bead embroidered peacock tea gown, 1913-4 beaded blue and green silk chiffon evening dress, 1910 peacock silk evening gown, and ca. 1909 green and black evening dress.
The chiffon sleeves and taffeta belt of my dress are based on this ca. 1913 silk and lace evening dress with beaded tassels, this ca. 1914 evening dress, and this ca. 1911 pink silk chiffon dress.
A visitor 😉
My hairstyle is inspired by this pretty 1910-2 photograph, and this photograph of a lady in a 1910s evening gown.
It consists of curls at the back of the head, and a strand of hair wrapped round the head.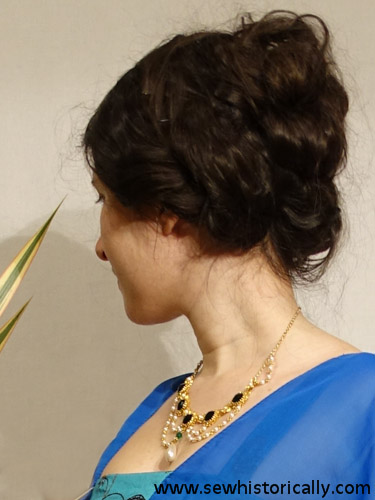 The updo is very similar to the 1910s Recamier hairstyle [tutorial].
I'm wearing a brass and glass necklace with the dress.
I've made beaded tassels in blue, turquoise, and dark blue to match the color of the dress.
Here are the sleeves with the beaded tassels.
To make the tassels: I've sewn seed beads to a piece of ribbon like a beaded fringe. Then I've rolled and sewn the ribbon into a head for the tassel, and covered it with seed beads.
The tassels add weight to the sleeves.
Here's a 1916 evening dress with beaded tassels at the sheer sleeves. And a close-up of beaded tassels on a 1914-16 evening gown.
The bodice of the gown is draped over a jeans foundation. The stiff foundation gives the right shape to the bodice and the bodice needs no boning. I'm also wearing a corset underneath.
The bodice closes at the side with hooks and eyes.
I love the peacock colors of this dress.