In this tutorial I'll show you how I mended an old ripped jeans in the crotch area.
You'll need:
ripped jeans
old, thin denim fabric (old jeans)
scissor
sewing thread
sewing machine
You can choose orange brown thread which is often used for jeans seams. Or use bluish thread which will be less noticeable.
Cut off a patch from an old jeans: It's best to use thin denim fabric (without holes) so that the patched area won't be too bulky.
Pin the patch in place behind the ripped area.
Now cover the ripped area with straight stitches.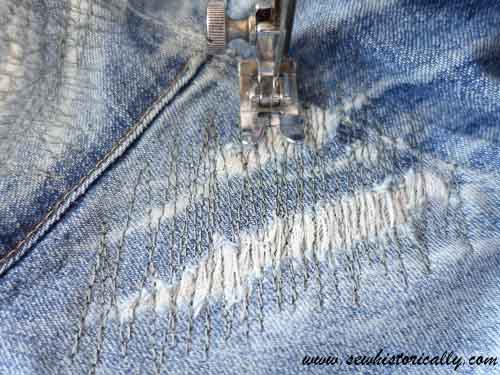 Continue to sew back and forth in a zigzag pattern. You can leave the mend like that or …
… turn the jeans and sew more straight stitches across the first stitches.
Now turn the jeans inside out and cut off the excess fabric close to the stitching.