Limerick lace is a floral tulle lace: It is hand-embroidered on machine-made cotton net. In this tutorial I'll show you the basics of Limerick lace.
Limerick lace was made since 1829 in Limerick, Ireland, hence the name Limerick lace. There are two types of this beautiful, delicate lace: Limerick lace can be either worked as needle-run or tambour lace. In needle-run lace, the net ground is embroidered with a needle and darning stitches. Whereas in tambour lace, the net ground is embroidered with chain stitches and a tambour hook which is similar to a crochet hook. Usually, needle-run lace is more delicate than tambour lace, while some Limerick tulle laces use a combination of needle-run and tambour.
'Embroidery on net is very popular now for trimming blouses, camisole tops and the finer kinds of lingerie. […] For summer […] curtains, this work is exceedingly light and pretty.' (Victorian Fancy Stitchery: Techniques and Designs, 2013 [1913], p.6f.)
A couple of years ago, I made a Victorian Limerick lace day cap because I love Limerick lace! And despite the delicate look, Limerick lace is easy to make and it takes much less time than one would expect!
How To Make Limerick Lace By Hand
You'll need:
cotton bobbinet tulle
cotton thread
ball point needle
tambour hook or crochet hook
scissors
embroidery hoop
Materials For Limerick Lace
Bobbinet Tulle
Bobbinet tulle is made of 100% cotton and is usually unbleached. It can be difficult to find nowadays and it's very expensive. Here you can see close-up pictures of different lace grounds.
The Thread
The threads for tulle lace embroidery 'match the net in texture. […] It is usual to use a coarser thread for the outline than for the filling, or the filling thread may be doubled for the purpose' (Victorian Fancy Stitchery: Techniques and Designs, 2013 [1913], p.6f.).
Lace Pattern
Draw your own design or look at antique laces and copy a design that you like. Because bobbinet tulle is see-through, you don't have to transfer the lace pattern. Simply put the pattern under the embroidery hook with the stretched bobbinet tulle.
Limerick Lace Patterns
Free Limerick Lace Patterns
Antique Tambour & Needle-Run Limerick Lace
How To Make Needle-Run Limerick Lace
Embroider the outlines of the lace pattern with running stitches. A sharp needle works but a needle with a ball point is easier to work with.
For flowers and leaves double or triple the thread and stitch each petal with three or four satin stitches. Don't pull the thread too tight.
How To Make Tambour Limerick Lace
Tambour Limerick lace is made using a tambour hook. A tambour hook is like a crochet hook but with a sharp point. However, you can use a size 10 (1.00mm) crochet hook instead if you don't have a tambour hook – like me! 😉
Embroider the outlines of the lace pattern with chain stitches while holding the thread under the fabric with the left hand.
'In tambour work the thread is kept below the frame and guided by the left hand, while the hook or crochet needle is passed from the surface through the fabric, and brings up a loop of the thread through the preceding stitch, and the needle again inserted, forming thus a close chain on the surface on the surface of the work.' (Handbook Of Embroidery, 1880, p. 52)
How To Finish The Raw Edge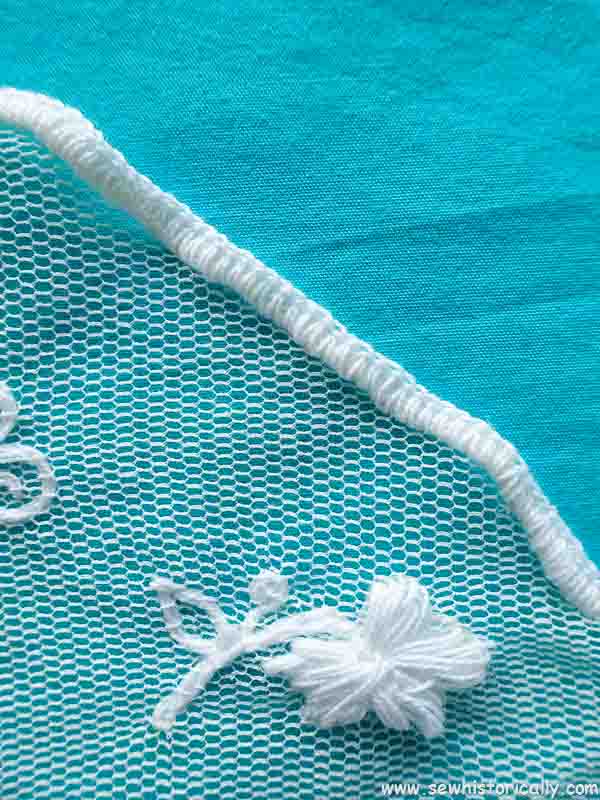 In the Victorian era, the edge of Limerick lace was either finished with buttonhole stitches, crochet stitches or two rows of chain stitches.
'Edgings, insertions, or motifs can be finished at the edge with buttonhole stitches or a crochet finish.' (Victorian Fancy Stitchery: Techniques and Designs, 2013 [1913], p.7)
However, the edge of antique Limerick lace was often left raw because bobbinet tulle doesn't unravel.
'To edge this lace, lay a cord along it and overcast it; ornament the cord with picots […] This edging must not be at all heavy, or it will detract from the light appearance of the lace; it is frequently only run with a double line of thread and the net cut straight beyond the running' (The Dictionary Of Needlework, 1885, p. 45)
If there's interest I'll share more tutorials about Limerick lace making with you. Let me know in the comments! 🙂
Please Pin It!