This homemade mirror glaze from scratch is dairy-free, made without corn syrup and naturally colored with butterfly pea tea.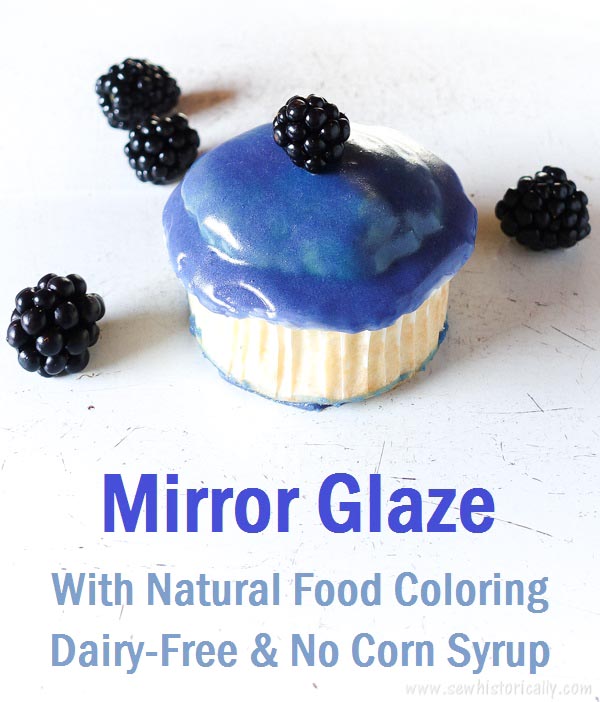 I may have mentioned it once or twice before 😉 but I love the naturally dark blue color of butterfly pea tea! So of course I had to dye my homemade mirror glaze naturally blue with butterfly pea tea!
I always wanted to try out mirror glaze but since I can't eat dairy I had to figure out how to make mirror glaze dairy-free. Finally, I made my own vegan condensed milk with soy milk and I used vegan rice milk based white chocolate – I think cocoa butter would also work if you can't find vegan white chocolate. Usually, mirror glaze is made with corn syrup but this mirror glaze is made with powdered glucose instead.
Mirror Glaze Recipe – Dairy-Free & No Corn Syrup
Ingredients:
150g granulated sugar
150g powdered glucose
100g water
100g vegan condensed milk *
13 gelatin sheets (about 2-3 tbsp powdered gelatin)
160g vegan white chocolate
optional: 1 bag butterfly pea tea
* I used homemade condensed milk – made with soy milk and sugar.
Directions:
Soak gelatin sheets in cold water for 5 minutes.
Bring sugar, glucose, water and condensed milk to a boil. Cook until the sugar is dissolved then remove the saucepan from the heat.
Gently squeeze the water out of the gelatin sheets. Stir gelatin sheets and white chocolate into the condensed milk mixture.
Beat the transparent brown liquid with an electric mixer until the mirror glaze turns whitish and thickens.
Naturally Blue Mirror Glaze
Cover the butterfly pea tea with boiling water and let it steep for about 5 minutes. Color the mirror glaze with some drops butterfly pea tea. Add less butterfly pea tea for pale blue and more for dark blue. You can even create a marbled effect!
Pour the mirror glaze over a cake or cupcakes. If you want to cover a buttercream cake with mirror glaze, the cake needs to be frozen before glazing.