Victorian flower jelly pudding – this layered jelly and custard dessert topped with edible flowers will sure impress your guests!
Victorian jellies and custards were elaborate desserts served at formal dinners. This layered jello mold consist of fluffy vanilla pudding mousse with whipped egg whites, lemon jelly and is topped with edible flowers. And if you want an even more impressive dessert, you can make naturally blue butterfly pea jelly instead of lemon jelly! Butterfly pea tea is a natural blue food coloring with a neutral taste.
Related: Homemade Natural Blue Food Coloring With Red Cabbage
While the Victorian flower jelly pudding is made with pansies, you can use other edible flowers as well, such as roses, violets, lilac flowers or phlox. I used daisies for my Victorian flower jelly pudding.
List Of Edible Flowers
roses
violets
clover
lilac flowers
daisies
nasturtiums
borage flowers
hollyhock flowers
phlox
marigolds
calendula
honeysuckle
day lilies
dandelion flowers
lavender
carnations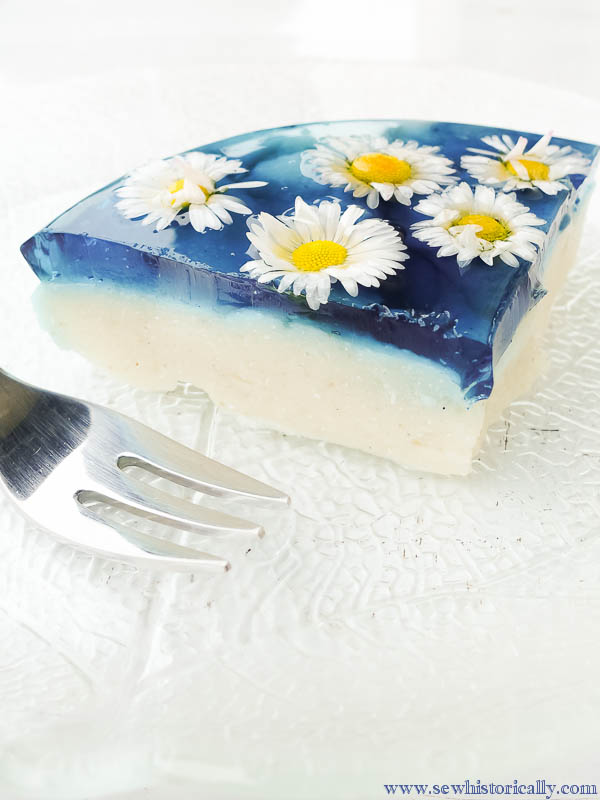 Victorian Flower Jelly Pudding – Tips & Tricks
How To Make A Jello Mold
'Place the mold in a bowl containing cracked ice; the jelly will then quickly harden, and the process of fancy molding not be tedious. Have the mold perfectly even, so the jelly will stand firm and straight when unmolded; also, do not move the mold while filling, as jarring or shaking is likely to separate the layers and cause them to fall apart.
Have the jelly mixture cold, but not ready to set, or it will take in bubbles of air and cloud the jelly. Pour in one layer at a time and let it harden before adding the next. Do not, however, let it become too firm or gather moisture, or it will not unite, and also will be clouded.' (The Century Cook Book, 1894)
How To Make A Jello Mold With Fruit Or Edible Flowers
'To suspend a bunch of grapes in the center of a form, first pour into the mold a layer of jelly one half inch deep; let it harden; then place on it, and arrange in good shape the bunch of grapes, leaving one half inch or more space around the sides; pour in another half inch of jelly, but not enough to float the grapes; when that has set, cut with scissors the grape stem in many places, so it will fall apart when served; then fill the mold with jelly.
Any fruits, or flowers, can be put in in the same way, care being used to add at first only just enough jelly to fix the ornament; otherwise it will float out of place.' (The Century Cook Book, 1894)
Serving A Jello Mold
'Jellies are improved by serving with them whipped cream, custard, or puree of fruits. It may be poured around, not over, the jelly on the same dish. When a sauce is not used, have a lace paper under the jelly. Jelly is more attractive when served on a flat glass dish.' (The Century Cook Book, 1894)
Victorian Flower Jelly Pudding Recipe
Victorian Lemon Jelly
Ingredients:
1/2 box or 1 ounce gelatine, soaked in cold water
2 cup boiling water
1 cup sugar
juice of 3 lemons, filtered
thin slices of lemon-rind
optional: butterfly pea tea
Hint: If you plan to make naturally blue jelly with butterfly pea tea, omit the lemon juice because butterfly pea tea is ph-sensitive: acid such as lemon juice turns the blue into purple!
'Put the boiling water, the sugar, and a few thin slices of lemon-peel in a saucepan on the fire. When the sugar is dissolved, add the soaked gelatine, and stir until that also is dissolved; then remove, and when it is partly cooled add the lemon-juice […]
Strain it through a felt or flannel, and turn it into the mold. […] Any wine or liqueur can be used for flavoring. This will make one quart of jelly.' (The Century Cook Book, 1894)
Victorian Vanilla Pudding
Ingredients:
1 pint milk
2 heaping tbsp cornstarch
3 tbsp sugar
3 egg whites
1/2 tsp vanilla
Related: Homemade Vanilla Sugar
'Beat the eggs to a stiff froth. Dissolve the corn-starch in a little of the cold milk. Stir the sugar into the rest of the milk, and place it on the fire. When it begins to boil, add the dissolved corn-starch. Stir constantly for a few moments.
When it becomes well thickened, stir in the beaten whites of the eggs, and let it remain a little longer to cook the eggs. Remove from the fire; flavor with vanilla, and turn it into a mold. […]
The eggs may be omitted from above receipt if desired, but the pudding will not be as delicate. This pudding is quickly and easily made. It gives about a quart of pudding, or enough to serve six to eight persons. It may or may not be served with a custard made of the yolks of the eggs, but it requires a good sauce and flavoring, or it is rather tasteless.' (The Century Cook Book, 1894)
Victorian Vanilla Pudding With Canned Fruit
'When the corn-starch is sufficiently set to hold the fruit in place, stir into it lightly one half can of well-drained fruit (cherries, raspberries, strawberries, or any other fruit), and turn it into a mold to harden. Serve the juice of the fruit with it as a sauce.' (The Century Cook Book, 1894)
Victorian Layered Chocolate & Vanilla Pudding
'When the corn-starch is taken from the fire and flavored, turn one third of it into a saucepan, and mix with it one and a half ounces or squares of chocolate melted, a tablespoonful of sugar if unsweetened chocolate is used, and a half cupful of stoned raisins. Let it cook one minute to set the chocolate.
Turn into a plain cylindrical mold one half of the white corn-starch. Make it a smooth, even layer, keeping the edges clean; then add the chocolate; smooth it in the same way; then add the rest of the white corn-starch, making three even layers, alternating in color; after each layer is in wipe the sides of the mold so no speck of one color will deface the other.' (The Century Cook Book, 1894)
Please Pin It!