I've sewn a Victorian pinner apron as part of my Victorian working woman outfit.
'If for common use, aprons are made of white, brown, blue, black, or checked linen, of black stuff, calico, Holland, leather, nankeen, print, or long cloth; if for better purposes, of cambric muslin, clear, mulled, or jaconet muslin, silk, satinette, satin, &c. The length of the apron is, of course, generally determined by the height of the wearer, and the width, by that of the material, and by the purpose for which it is intended. For working aprons, the width is generally one breadth of a yard wide; for dress aprons, two breadths, one of which is cut in half, and these halfs put one on each side of the whole breadths. If the material should be wide enough, on breadth, of from fourteen to twenty nails will answer very well.' (The Workwoman's Guide, 1840, p. 76)
I used unbleached cotton fabric and unbleached cotton sewing thread. The Victorian apron is completely handsewn in 5 hours.
I used overhand and pick stitches for the seams and hems.
I attached the skirt part of the apron with cartridge pleats to the waistband and bib.
-> My Tutorial: How To Sew Cartridge Pleats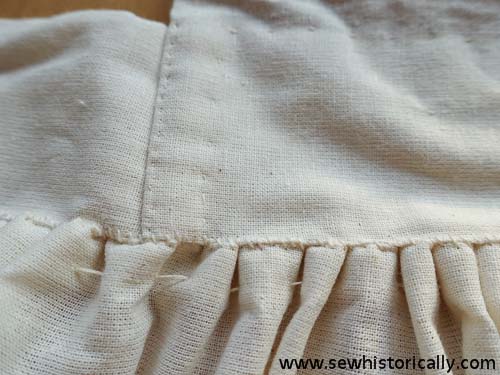 A similar pinner apron is described in the 1840s as 'a neat pattern for a housekeeper, cook, or kitchen-maid. The bib is quite plain, and pins to the gown at the corners. The size given in the Plate is suitable for a girl, but the bib should be cut to suit the wearer at once, and not made by guess. The apron is made of check or strong linen.' (The Workwoman's Guide, 1840, p. 79) Here's a picture of the apron: Plate 11 Fig. 14.
Antique Victorian pinner aprons: Photograph of three Civil War nurses, 1860s glazed cotton apron and two servants.
The apron can be worn as pinner apron or as an apron without the bib. An bib-less apron is described in the 1840s as 'a simple shape, and the one most in use. It is either plaited or gathered into the band, which is about a nail deep. These aprons are usually worn by all servants and women while at work. Blue, check, and brown linen are most used for scouring and cleaning; white linen, Holland, and print, for less dirty employments. Ladies wear them of silk or muslin, with or without pockets.' (The Workwoman's Guide, 1840, p. 78) Here's a picture of the apron: Plate 11 Fig. 10.
And some photographs of Victorian bib-less aprons: Photograph of woman in printed dress, 1860s photograph of cook, 1860s photograph of an elegant Civil War nurse and Hannah Cullwick – maid of all work.