Sloe berry meringue pie – an unusual twist on the traditional lemon meringue pie!
A flaky, buttery pie crust topped with meringue and filled with sloe berry custard with freshly picked sloe berries – doesn't this sound delicious? 😀 Sloe berry meringue pie tastes sweet and fruity and simply delicious! And don't wory the sloe pie doesn't taste astringent like raw sloes! 😉
Harvesting Sloes
Sloe berries are the fruit of blackthorn bushes. Blackthorn (Prunus spinosa)  bushes are often found in hedgerows together with hawthorn and wild roses (rose hips).
Related: Homemade Easy Rose Hip Jam
It's a large shrub with thorns – so be careful when you pick the sloe berries! You can harvest sloe berries between October and December. It's usually recommended to wait till after the first frost or to freeze the sloes before using them but I find that sloes taste the same before and after the first frost. The first frost was just a sign that the sloes are ripe and ready to harvest.
Sloe berries are blue covered with a white waxy bloom: Freshly-picked sloe berries look a bit like blueberries. Sloes – a relative of the plum – are edible raw and have a fruity astringent taste. Taste the berries before you pick them because some bushes produce better tasting, less astringent sloes. You can use sloes for jam or homemade sloe gin, to make juice, and as cake or pie filling. Sloes are rich in vitamins C and K, and minerals such as potassium, magnesium, iron, copper and manganese.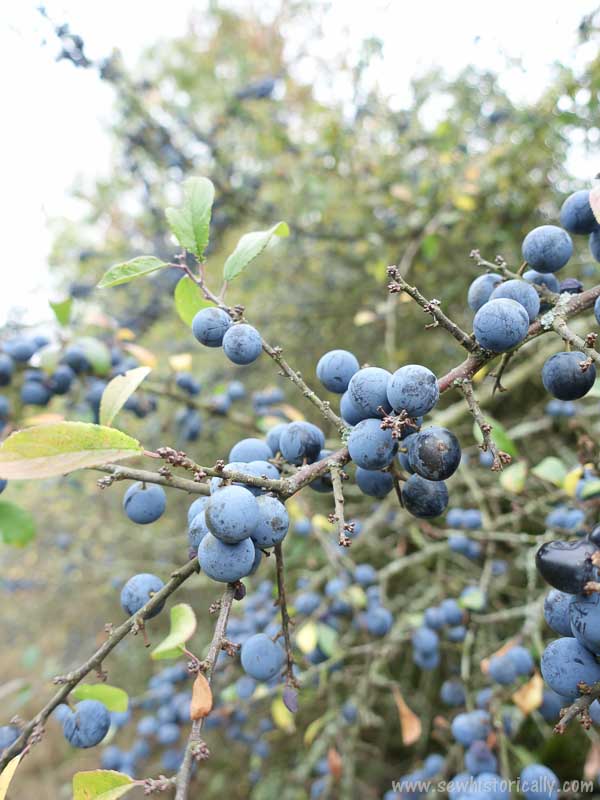 Other Uses Of Sloes (Blackthorn)
Sloes were used in the past as indelible laundry ink and to dye fabric blue:
-> DIY Natural Fabric Printing Inks
In medieval times, the bark of blackthorn bushes was made into ink:
And in the Victorian era, dried blackthorn leaves were used as tea substitute:
Sloe Berry Meringue Pie
Ingredients:
Flaky Buttery Pie Crust From Scratch
1 1/2 cups flour (200g)
2/3 cup butter (150g)
4 tbsp cold water
pinch of salt
optional: 1 tbsp sugar
Sloe Berry Custard
1 2/3 cups sloe berries (300g)
3 eggs & 4 egg yolks
2 lemons – zest and juice
1 1/2 cups sugar (300g)
1 stick butter (115g)
Italian Meringue Topping
4 egg whites
1 cup sugar (200g)
4 tbsp water
Directions:
Flaky Buttery Pie Crust From Scratch
Preheat the oven to 350°F (180°C).
Cut the butter into the flour with a knife. Knead in the cold water, salt and sugar. Put the dough in the fridge for at least half an hour.
Roll out the pie crust on a floured surface and transfer it to the pie plate. Trim the overhanging dough with a knife or scissors.
Bake the pie crust for 10 – 15 minutes.
Sloe Berry Custard
Place the sloes in a saucepan, half cover with water and bring it to a boil. Simmer the sloe berries until most of the water has evaporated. Then strain the sloes through a sieve. Discard the pips and skins.
Combine the sloe puree and all other ingredients in a saucepan and bring it to a boil. While constantly stirring, cook the sloe custard until it thickens (for about 10 – 15 minutes). Let the custard cool down to room temperature.
Italian Meringue Topping
Combine sugar and water in a saucepan and cook it until the sugar is dissolved.
Meanwhile beat the egg whites until stiff. Then, while constantly whisking, pour the syrup into the meringue. Continue whipping the Italian meringue on high speed until completely cool.