I turned a turtleneck collar into a crochet lace collar. It's a very easy refashion! 😀
The sweater had a turtleneck collar before. But I don't like turtlenecks! 😉
So I cut off the turtleneck collar and unravelled the collar.
Then I used the yarn to crochet a lace collar.
Once finished, I sewed the crochet lace collar to the raw edge of the sweater with two rows of zig zag stitches. The two rows of zig zag stitches prevent unravelling of the raw edge.
On the right side, the raw edge is hidden behind the single crochet stitches.
I like how it turned out! 😀 The loose crochet lace collar is much more comfortable to wear.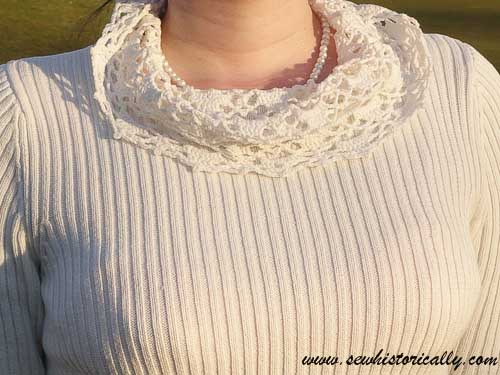 Here are similar crochet lace patterns, if you'd also like to refashion your turtle neck sweater into a crochet lace sweater: crochet lace pattern 1, crochet lace pattern 2 and crochet lace pattern 3.
It was such a windy day when we took the pics! 😀