Rainbow cakes are everywhere on pinterest right now! And since I'm experimenting with natural food colorings at the moment, I thought I'd try to make rainbow cake with natural food coloring! 😀
I used different berries – strawberries, raspberries, red currants, black currants, blueberries and blackberries – spinach, peas, red cabbage, carrots, cherries and damson plums.
I used my basic vegan cake batter recipe. Because I wanted to try out so many different natural colorings, I made cupcakes.
Homemade Natural Food Coloring
I used 1 tbsp fruit puree per 1 tbsp cake batter except where stated otherwise.
Purple Food Coloring: Blueberry, blackberry, red cabbage, cherry
Pink/ Red Food Coloring: Raspberry, red currant, strawberry, damson plum
Orange Food Coloring: Carrot
Green Food Coloring: Pea, spinach
Lavender Food Coloring: 1 tsp red cabbage juice (without baking soda) per 1 tbsp cake batter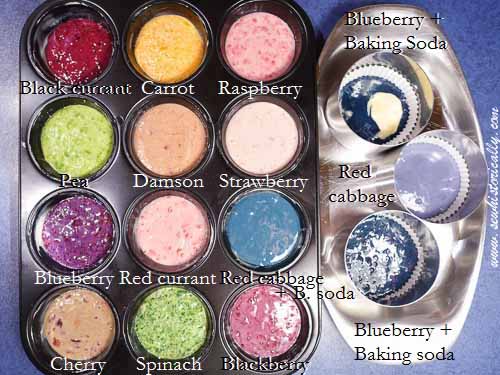 Blue Food Coloring: I tried to color 1 tbsp of the cake batter blue with 1 tsp of my homemade natural blue food coloring (made with red cabbage and baking soda), and another with 1 tbsp pureed blueberries, but both failed: Both cupcakes were brown/ bluish gray after baking.
Natural blue colors are often heat sensitive, therefore I baked the cupcakes just at 160°C (320°F), but the beautiful blue cake batter turned brown before it was baked through.
So I thought natural blue cakes are impossible to make, but then I accidentally made blue cake! 😀
The melting blue ice cream (colored with red cabbage and baking soda) turned the cake blue.
So it's possible to make naturally colored blue cake! But the cake has to be dyed after baking.
Update: -> Natural Blue Cake Experiment
Most of the muffins were very dense : either too much fruit or the wrong muffin tin – the cupcakes baked in paper cupcake cups were alright.
Because I wanted a brightly colored natural rainbow cake I used 1 tbsp natural food coloring per 1 tbsp cake batter, so the cake layers taste of berries, spinach, carrot etc. But feel free to use less natural food dye per cake batter.
I made vanilla buttercream to fill the rainbow cake.
Especially the berry layers tasted delicious with vanilla buttercream filling.
You can also use homemade natural food dyes to make rainbow ice cream cake.