Isn't the dark forest green color of this natural food dye amazing? Can you guess what I used as natural green food coloring? 😀 Hint: It's not spinach, peas, kale, stinging nettle, avocado or any other vegetable. It's also not matcha powder, mint leaves, pistachios, pumpkin seeds, pandan leaves, wheatgrass or spirulina. 😉
It's sunflower seeds! 😀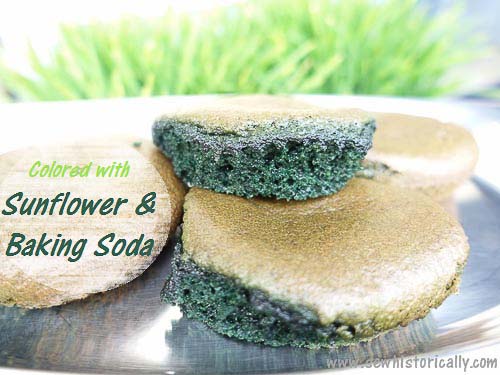 After baking these great natural green sunflower seed cupcakes, I was so fascinated by the dark green color that I had to experiment a bit more with natural green food coloring made with sunflower seeds.
Sunflower seeds contain chlorogenic acid. Chlorogenic acid turns green in an alkaline environment!
Chlorogenic acid is safe to eat. Chlorogenic acid can also be found in tea, coffee, bush beans, beetroot, cabbage, carrots, peas, tomatoes, zucchinis, soy beans and spinach (source, pdf).
Natural Green Sunflower Seeds

Ingredients:
1/2 cup sunflower seeds
2 cups water
1/2 tbsp baking soda
Bring sunflower seeds, water and baking soda to a boil – be careful, it'll foam a lot! Simmer for 20 – 30 minutes. Drain the sunflower seeds: they're now yellow. Spread them out on a plate and let them oxidize for some hours or overnight. On exposure to air, the sunflower seeds become emerald green, dark forest green and some almost black!
Vegan Nut-Free Naturally Colored Green Frosting
Ingredients:
1/2 cup natural green sunflower seeds
3 tbsp powdered sugar
optional: 1 tsp homemade vanilla extract, or 1 or 2 drops essential peppermint oil
Blend all ingredients until smooth.
Natural Green Smoothies And Ice Cream For St. Patrick's Day
Natural green food coloring with sunflower seeds is healthy and easy to make. And it's also great for allergy sufferers because it's vegan and nut-free. Use the natural green sunflower food dye to color smoothies and ice cream for St. Patrick's Day!
Looking for more natural green St. Patrick's Day recipes?
-> Green Sugar Hearts & Sugar Sprinkles