Creamy kiwi curd topped with fluffy meringue and a flaky pie crust. Kiwi curd meringue pie makes a delicious, refreshing summer dessert!
A while ago, I made homemade kiwi curd – it was so delicious! So I thought I'd make it again as filling for meringue pie or rather tartlets because I wanted to try out different vegan pie crust recipes. Below you'll find recipes for a buttery pie crust and 10 vegan pie crusts – aquafaba pie crust is my favorite! Let me know in the comments what's your favorite pie crust.
Why's the kiwi filling yellow? Kiwis turn yellow while cooking so the kiwi curd filling is rather yellow than green unless you add green food coloring.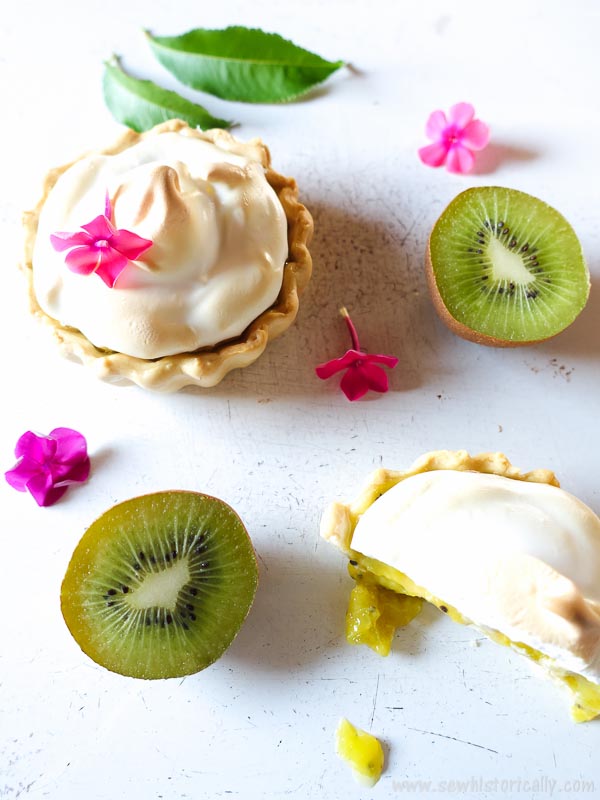 Kiwi Curd Meringue Pie
Ingredients:
Flaky Pie Crust
1 1/2 cups flour (200g)
2/3 cup butter (150g)
4 tbsp cold water
pinch of salt
Related:10+ Vegan Pie Crust Recipes
Kiwi Curd
4 – 5 kiwi
1/2 cup sugar (100g)
1/2 cup butter (100g)
4 egg yolks
Meringue Topping
4 egg whites
1 cup sugar (200g)
Directions:
Flaky Pie Crust
Preheat the oven to 350°F (180°C).
Cut the butter into the flour with a knife. Knead in the cold water and salt. Put the dough in the fridge for at least half an hour.
Roll out the pie crust on a floured surface and transfer it to the pie plate. Trim the overhanging dough with a knife.
Bake the pie crust for 10 – 15 minutes.
Kiwi Curd
Mash kiwis with a fork. Then combine all ingredients in a pot. While constantly stirring, cook the kiwi curd for some minutes until it thickens.
Then pour the kiwi curd into the pie crust.
Meringue Topping
Beat the egg whites and sugar until stiff.
Spoon the meringue over the kiwi curd and bake the kiwi curd meringue pie for another 10 minutes.