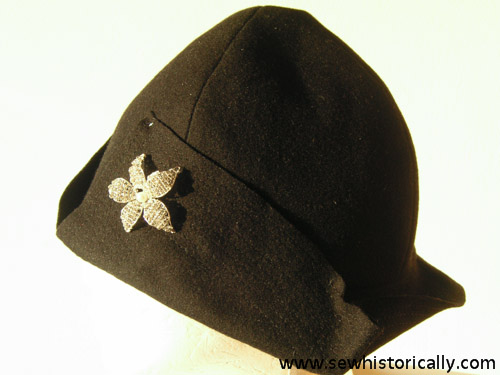 I've sewn a 1920s wool cloche hat and I've written a tutorial about it. I've also included a free pattern for you, if you want to sew your own 1920s cloche hat. 🙂
In the 1920s, cloche hats were not always store-bought: There were many instructions published about how to sew cloche hats at home. So it's authentic to grab some fabric and sew your own cloche hat! 😀
'Making a felt hat: There is none of the tediousness of the usual millinery construction. There are no foundation frames or buckram. The hat is cut along lines outlined on the felt. The pieces of soft pliable material are nearly all stitched together on the sewing machine. […] All so quickly done […] Almost miraculously in a few minutes' time one evolves a chic little hat'. (1928 instructions for eight different sewn felt cloche hats)
Materials:
fabric (I've used black wool broadcloth)
sewing machine
scissor
iron
Print out my free PDF cloche hat pattern. Cut out four pieces for the crown from your fabric. Sew the four pieces of the crown together.
Now the crown should look like this.
Cut off the small triangles of the seam allowances at the top of the cloche hat close to the stitching so that they don't create a bulge after ironing.
Press the seams open with a damp cloth.
The hat inside out with the seams pressed open. Here you'll see the interior of a partly finished antique 1920s hat.
The brim of the pattern will look this white cotton cloche hat and this 1920s rain cloche hat, which I've sewn some time ago.
However, for this wool cloche hat, I've altered the shape of the brim to make a V-notch at the front of the cloche hat, as on this 1920s hat.
1920s description of cloche hat with slashed brim: 'She, who wears this stunning hat will be delighted with its dashing smartness. It will give just the right touch of chic to any costume. There is a world of becomingness in the swagger turn-up of the front brim'. The cloche may be made to hide the forehead or as a '"off-the-face" model, so alluringly flattering and smart.' The slashed front brim 'is turned back against the smooth-fitting sectional crown, framing the face most becomingly'. The New Silhouette from Paris, Hamilton Garment Co. New York catalogue, 1929 (republished in Fashion Sourcebook 1920s)
You can also adapt the pattern to make a wider brim, which I've done for my sheer 1920s cloche hat.
Pin the brim to the crown.
I've topstitched the brim before attaching it to the crown, as on this mid-1920s black cloche hat, or this black silk hat with a slashed brim.
Press the seam allowance away from the brim. Attach the hat lining. Here's my tutorial about how to line a hat.
Now you can decorate your cloche hat: with a brooch, french beaded flowers, lace …
I've chosen a beaded flower brooch, as on this antique 1920s black wool cloche hat.
Here's my finished 1920s black wool cloche hat.
The brim of my cloche hat is similar to this 20s hat.