This tutorial will show you how to make this cute Easter bunny.
You'll need:
yarn
scissor
crochet hook
needle
optional: pom pom maker
To make the pom poms, use a pom pom maker …
… or wrap the yarn round your fingers or a fork.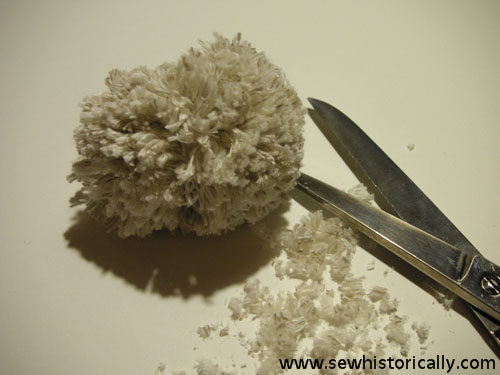 Trim the pom poms.
Make two large pom poms for the body and the head, and one smaller pom pom for the tail.
Tie the pom poms together with a square knot …
… to get this rabbit shape.
Crochet two bunny ears according to this leaf pattern.
Tie the bunny ears …
… to the head pom pom with a square knot.
For the eyes, tie a large yarn knot and tie it to the head pom pom.
Make another bunny, so that your bunny isn't alone. 😉