I'm sewing an Edwardian S-curve corset in my free time – yay! 😀 I've always wanted to have an Edwardian S-curve corset. But it takes so long (more than a year already) – so here are some in-progress-pics before I can show you the finished Edwardian corset.
I used off-white 100% silk satin, and white cotton twill as lining. The corset is heavy boned with steel boning and German plastic boning. I'd bought an ordinary corset busk, but then I saw other reproduction S-curve corsets bending too much at the front – much more than Edwardian S-curve corsets: Edwardian photographs show corsets with a much 'straighter' front. So I bought another rigid, wide, stainless steel corset busk which hardly bends at all. I trimmed the corset with off-white cotton Maline lace, which is threaded with pink 100% silk ribbon. As corset laces I used white 100% silk ribbon. Before I adjusted an Edwardian straight-front corset pattern to my figure, I made paper corset mockups to decide which shape I'd like best.
My main inspirations were: 1905 silk corset trimmed with lace, ca. 1907 French silk corset trimmed with lace, Edwardian photograph of a woman wearing a straight front corset, 1903 drawing of woman with erect front corset, and ca. 1897 silk corset with garters.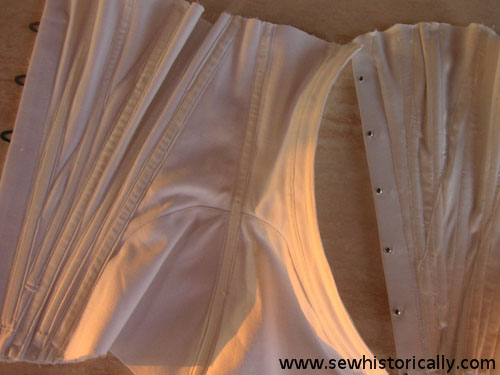 That's the first corset busk I've inserted! 😀 – All the other corsets I made in the past years are without a corset busk. – But it went better than I thought. 😉
I've again used the welt-seam method which I've already used for two other corsets. I like this technique because it's fast and easy and finishes all the raw edges in one step. However, I find that this method is better suited for less curvy corsets, such as for my corded mid-Victorian corset, and less flimsy fabrics.
Inserting the hip gores was the trickiest part.
I used a combination of steel and German plastic boning: I used steel boning at the front to achieve the straight front style of Edwardian corsets, and plastic boning at the back. According to this source, German plastic boning is an even better substitute for baleen than steel boning.
I sewed two different cotton Maline laces together by hand, like here, threaded the silk ribbon through the eyelets, and sewed it down by hand after I'd bound the top of the corset with strips of leftover silk satin.
I've also never before made a corset with grommets. All my other corsets and stays have handsewn eyelets.
I didn't like setting the grommets: it's loud, it's not faster than handsewn eyelets, and my hands hurt afterwards. But at least they look good.
Today, corset laces are often round, and made of cotton or polyester. But in the Edwardian era it was advised that corset laces should be 'made of silk. Silk is more expensive than cotton, it is true, but it wears well and is very comfortable. The round cords that are substituted for silk ones in cheap corsets hurt the spine […], mark the lingerie, and produce a feeling of discomfort. The flat cotton laces are better, but the flat silk ones are the best. […] They can be pulled in much more easily than cotton ones, and retain their place when tied in a bow. Furthermore they "give" with every movement of the figure, and add, therefore, to the grace of the wearer as well as to her comfort' (Every Woman's Encyclopaedia, 1910-2). 1895-1900 corset with silk laces
I'm making separate silk covered garters for the corset which will be attached with safety pins. 'If she wears garters attached to her corsets (and almost nobody wears any other kind) get her a pair of silk ones and set the elastic in a full casing of heavy ribbon that will stretch out with the elastic. Keep them all in one shade and finish them off with small flat bows. If you want to make them still more effective, put silver clasps on them, for, although the others are really more satisfactory to wear, a girl likes to feel she has the silver clasps.' (Marin Journal, 1905) Here's a picture of separate Edwardian garters with safety pins; and separate garters attached with safety pins to a ca. 1905 corset.
I hope I can soon post pictures of the finished corset! 😀