Inspired by a pin on pinterest I made these cute Easter bunny rolls. 😀 Bunny rolls are fast and easy to make, and they taste great! 😀
You can use any bread roll dough. Below is the recipe which I used.
Ingredients:
500g flour
30g fresh yeast
1/4l lukewarm milk/ or half water and half soy milk
pinch of salt
pinch of sugar
Combine yeast, sugar, milk and some flour, let it rise for 15 minutes. Add all ingredients and knead the dough. Let the dough rise again for 20 minutes. Then form round balls and place them on a greased baking sheet.
Cut the bunny ears with a scissor.
Make the eyes with a wooden skewer or something similar, such as a knitting needle.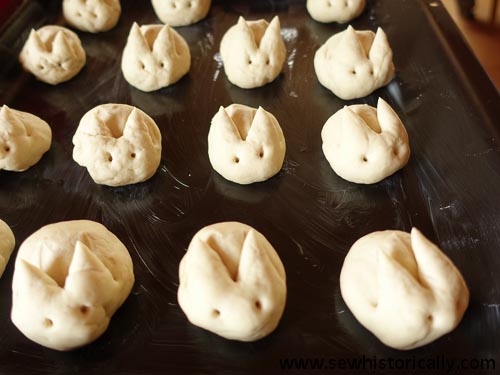 Let the bunny rolls rise again for 20 minutes. Preheat the oven to 230°C. Then bake for 20 – 25 minutes.