DIY pom pom sandals – from scratch – made with leather and colorful DIY yarn pom poms!
Pom poms are everywhere right now! These colorful little yarn balls adorn shoes, hats, bags and the hair! Pom poms add a boho twist to any outfit.
In this tutorial I'll show you how to make cute DIY pom pom sandals from scratch! 😀 All you need is a piece of leather and yarn!
Related: DIY Boho Pom Pom Hair Accessory
DIY Pom Pom Sandals – From Scratch!
You'll need:
vegetable tanned leather
linseed oil
colorful yarn
needle and scissor
optional: ankle bracelets, friendship bracelets, beaded tassels, beads, jewelry, metal or colorful plastic buttons, crochet ornaments …
DIY Leather Sandals From Scratch
Make DIY Huarache-type sandals with vegetable tanned leather and yarn.
DIY Pom Pom Sandals
Then make mini pom poms and tassels with yarn in different colors.
-> How To Make DIY Mini Yarn Pom Poms

-> Fast And Easy Way To Make Yarn Pom Poms
Using colorful yarn scraps tie the pom poms to the twisted cords of the Huarache sandals with square knots.
You can also use buttons, tassels and beads to embellish your boho sandals. I used plastic buttons in green, mint green, pink and yellow …
… large and small golden metal buttons, my DIY Indian beaded tassels in orange and gold.
And DIY beaded tassels in blue which I made some years ago for my 1910s peacock evening gown.
I also used turquoise ceramic beads, simple wire hibiscus flowers in petrol which I made some years ago as hair ornaments, a crochet ornament made with yarn scraps …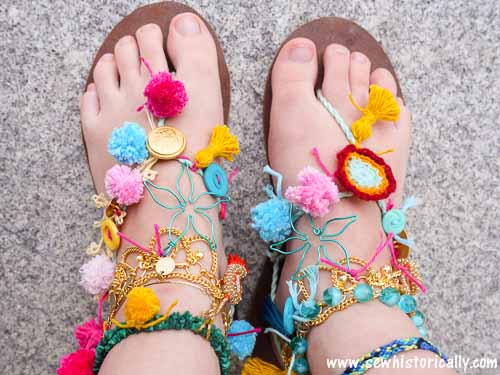 … friendship bracelets, a tatting sample and a malachite necklace.
For even more boho flair, wear the pom pom sandals with ankle bracelets. I'm wearing Indian ankle bracelets in gold.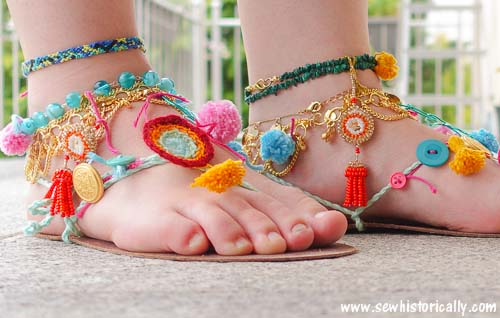 Please Pin It!