I made Huarache sandals again! Yay! Huarache sandals are so comfortable to wear and easy to make. After making Huarache sandals with cork soles and Huarache bathing shoes, I now made Huarache sandals with leather soles. Apart from soaking the leather soles, it just takes some minutes to make DIY huarache sandals. So grab some leather and yarn and make your own huarache sandals with leather soles! 😀
DIY Huarache Sandals With Leather Soles – Tutorial
You'll need:
vegetable tanned leather – 1/16 – 1/8″ (2 – 3mm) thick
linseed oil
cord – such as leather cord or twisted cord made with yarn
scissors
leather needle
awl (or something similar like a knitting needle)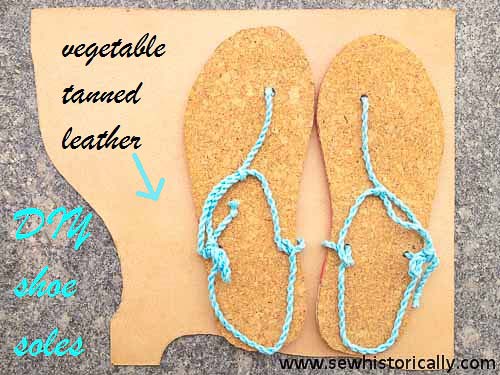 Cut Out The Soles
Use flip-flops or sandals as pattern for the shoes – I used my DIY Huarache sandals with cork soles as pattern.
Related: DIY Huarache Sandals With Cork Soles
Cut out the leather soles with scissors.
Soak Leather Soles In Linseed Oil
Let the leather soles soak overnight in linseed oil. Linseed oil makes the soles more durable.
Remove excess oil with rags.
Caution: One often reads of the danger of spontaneous combustion of rags soaked in linseed oil. My soaked rags didn't begin to burn. But to be on the safe side, don't put the rags into a pile, but let them dry flat or burn them.
DIY Leather Huarache Sandals
Mark three holes for the cord: One between your toes and two at the side of your foot.
Using a leather needle pierce the holes through the leather sole.
Then make the holes bigger with an awl.
Lacing The DIY Huarache Sandals
Now you can lace your huarache sandals.
Related: How To Tie Huarache Sandals
And your DIY Huarache sandals with leather soles are ready to wear! Wasn't that quick and easy?
Related: DIY Huarache Bathing Shoes
Leather huarache sandals are lightweight, comfortable to wear and let you feel the ground – it's almost like walking barefoot. The leather soles are flexible and more durable than cork soles. Even rocks and gravel roads haven't damaged the soles yet – the leather soles are still like new.
Please Pin It!