I tried out one of the Victorian and Edwardian tooth powder recipes: it's the Basic Tooth Powder With Camphor from 1902 – but I left out the camphor.
Ingredients:
1 part calcium carbonate
1/2 part orris root powder
1/4 part castile soap (pure olive oil soap)
Grate the castile soap bar finely; then add calcium carbonate and orris root powder. The original recipe calls for camphor, but I didn't add that.
To use the tooth powder: Dip the wetted toothbrush into the powder, then brush your teeth just as if you'd be using normal toothpaste.
Did I like it? The tooth powder doesn't foam very much, but as the toothpaste I'm normally using doesn't foam very much either, that wasn't a problem for me. But I didn't quite like the powdery feeling in my mouth – maybe because this is the first tooth powder I've tried. However, the tooth powder makes the teeth very clean and has a fresh, unobtrusive flavor. And you doesn't taste the soap at all. (-> here I tried to brush my teeth just with soap 😀 ) I think the tooth powder could be used instead of 'normal', store-bought toothpaste, but I liked this DIY natural toothpaste better (-> here you'll find my recipe).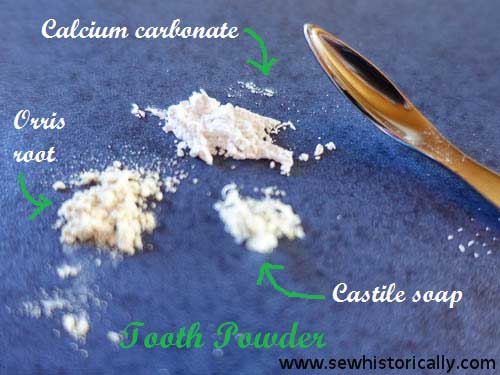 I also added some cinnamon powder to a part of the tooth powder inspired by the Premium Tooth Powder of 1896.
Premium Tooth Powder Ingredients:
12 parts calcium carbonate
1 part cinnamon powder
2 parts orris root powder
I didn't use the exact measurements of the Premium Tooth Powder; just added some powdered ceylon cinnamom to the Basic Tooth Powder from above (cinnamon has an antibacterial effect).
The tooth powder has a fresh, slight taste of cinnamon.