Aren't these bunny butt cupcakes cute? And what's best they're naturally colored with kale and beetroot!
The naturally colored bunny butt cupcakes would be a really cute addition to your Easter table or Easter basket!
The bunny butts are made with cake pop mixtures: You can make brown bunnies with chocolate peanut butter cake pops and white bunnies with marshmallow cake pops (recipes below).
Ingredients
Cupcakes
Naturally Green Icing – Colored With Kale
3 tbsp powdered sugar
1 – 1 1/2 tsp kale puree (1 curly kale leaf)
Edible Grass With Natural Food Coloring
4 solid colored kale cupcakes
Bunny Butts
Edible Grass With Natural Green Food Coloring
Crumble the solid colored kale cupcakes between your fingers.
Naturally Green Icing – Colored With Kale
Kale Puree: Remove the stalks, use just the leafy parts of the kale. Boil the kale with some water for 5 minutes, drain and refresh with cold water. Using a stick blender, puree the kale until smooth.
Naturally Green Icing: Stir together powdered sugar and kale puree.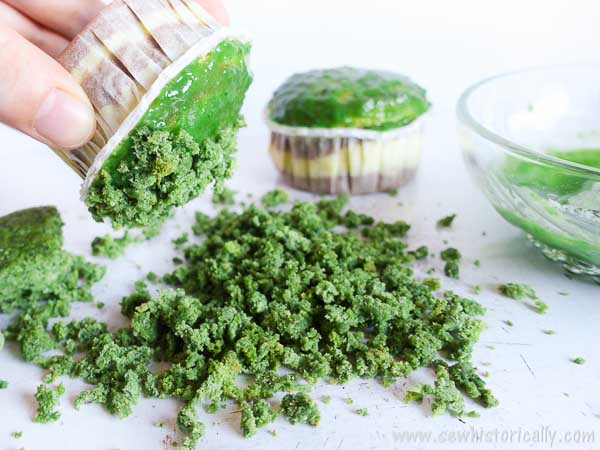 Naturally Green Grass Cupcakes
Ice the cupcakes with naturally green icing and dip them into the naturally green cake crumbs.
Bunny Butts
Roll the cake pop mixture into a large ball for the bunny body and a small ball for the bunny tail. Form two flat ovals for the bunny feet.
Stir together powdered sugar and enough hot water to make a thick paste. Ice the bunny butts.
Sprinkle the bunny tails with desiccated coconut.
For the toes pipe three dots onto each feet with the naturally pink beetroot icing.
'Glue' the the bunny feet and body together with icing.
I used leftover kale and beetroot icing to make meadow cupcakes. I'm amazed at the bright colors and that the icing doesn't taste of kale or beetroot!