Yay! My 750th blog post! 😀 To celebrate it, I'm sharing my 30 favorite blog post of 2017 with you.
Here you can see the top 30 most popular post of 2017 and my 10 favorite post from last year.
My 30+ Favorite DIY Crafts, Recipes & Refashions + Why
Blog post are in random order.
I finally found a drink that isn't too acidic to be colored with ph-sensitive natural red cabbage food coloring. Yay! 😀
I love the light in these photos!
One of the best historical cake recipes I tried last year!
I was happy that I was able to make patriotic strawberries with homemade natural blue food coloring made with red cabbage.
The DIY leather Huarache sandals and DIY pom pom sandals were two of my favorite projects in 2017.
I admired pom pom hair accessories for a long time and now I finally made my own!
The 1920s and the Edwardian era are my favorite historical eras at the moment. I loved researching about the strong and indepent, tanned, short-skirted and barefoot Edwardian woman! This is also the second most popular post of my readers.
Another of my favorite projects. The DIY ice cream cups made out of ice were a spontaneous idea inspired by the DIY ice luminaries that I made at Christmas, and they turned out so beautiful! It was so cold at that time, perfect to take photos outside of the ice glasses and the homemade, naturally colored ice creams.
Colorful yarn braids – another spontaneous idea! 😉
I loved trying out all the recipes with fresh rose petals, such as the rose petal lemonade, rose petal ice cream and rose petal jelly. And I was surprised how good the pictures are because I took the pictures between nine and ten at night! 😉
Yay! Finally I got blue cake! 😀
I love the colorful ice creams colors that I got with homemade, natural food coloring.
Finally I found time to write a blog post about homemade, natural fabric printing inks, made with blueberries, sloe berries, red cabbage, onion skins, coffee and iron & tannin.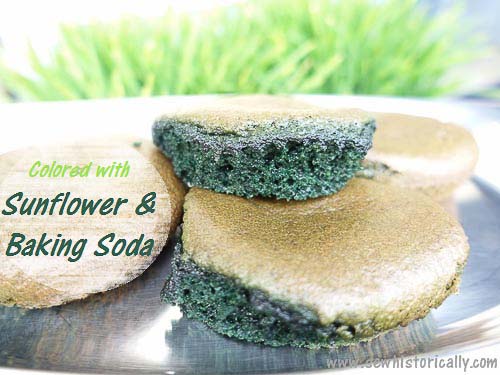 I was so surprised that one can make natural green food coloring with sunflower seeds!
I've wanted to try out homemade, natural blue food coloring for a long time and last year I finally made it. I love that I'm now able to dye food blue with my homemade, natural blue food dye. This is also the most popular post of my readers!
These hibiscus popsicles are so colorful and delicious and easy to make! I love the light in these photos; and it's the first time that I used ice cubes to photograph popsicles.
I needed a lot of colorful mini yarn pom poms last year for my straw clutch, sandals, hair accessory and a dog collar (not yet published). I never thought that it would take so long to make pom poms! 😉 And this trick was a great time saver.
It's amazing what colors one gets with homemade, natural food dyes!
My first surprise inside cake – it was so fun to make! And the pink icing colored with beetroot is so beautiful and delicious.
Not my favorite ice cream, but I've wanted to try out naturally colored black ice cream for a long time. And it was fun to take the photos outside in the snow during a snowstorm! 😉
I love games with rocks, such as my DIY fabric pachisi board with river rock game pieces and DIY wooden dice, the rock brandubh game above and DIY rock tic tac toe.
The color change of red cabbage dye on exposure to air is so amazing!
I loved carrot cake topped with cute marzipan carrots as a child. I was so happy to find this 1920s recipe for naturally colored marzipan carrots. And the marzipan carrots don't taste of tomato puree! 😉
I loved the idea of sweet, edible robin eggs after seeing speckled robin egg blue truffles and cakes on pinterest. I was happy that I could create naturally colored robin egg truffles with my homemade blue food coloring! The robin egg truffles are also vegan and one of the fillings is nut-free – made with adzuki beans: I never thought that adzuki bean truffles would be so delicious! 😀
It was so much fun to make a large ice luminary again for Three Kings Day. And I loved that it turned into a beautiful ice crown when it melted.
The refashion was so easy and the skirt is so comfortable to wear.
It was stressful to research the old recipes and measurements, but it's so interesting to bake 16th century cookies!
I prefer oil lamps to candles – they're so easy and cheap to make at home.
A rain skirt is so practical when one has a water-crazy dog! 😉 More pictures of my water-crazy dog on my instagram account.
I love mint green, so I love this refashioned mint green denim skirt!
The wheatgrass juice has such a beautiful dark green color and one can use it to color drinks green for St. Patrick's Day, such as beer.
The idea of edible moss cakes inspired me to try to make naturally colored moss cupcakes. I'm glad that the cupcakes colored with matcha and spinach really looked as if they were covered with moss.
I'm happy that I worked so well to make rose hip jam without removing the seeds and hairs first. And I like my new 'old' background: It's an old baking sheet from my grandma!