Women in the 1920s usually wore tap pants, a bra and a slip as underwear under their sheer dresses. Tap pants, also know as French knickers, circular drawers or step-in drawers, were fitted at the waist and had wide, flared legs. They were usually made of silk, sheer cotton, lace fabric or woven rayon fabric. Popular colors were peach, pink, mint green and turquoise.
Unlike my other two 1920s tap pants, these French knickers are historically accurate.
Related: Two 1920s Tap Pants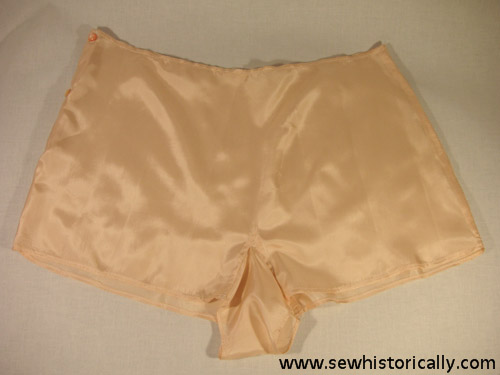 The Fabric
For the 1920s tap pants, I used peach colored (viscose) rayon fabric. Rayon fabric was widely used in the 1920s as replacement for the expensive silk.
My Inspirations
My inspirations were the following antique 1920s peach-colored tap pants: 1920s tap pants & bra, 1920s glossy silk tap pants with button closure, lace-trimmed tap pants, tap pants with scalloped hem and a photograph of a woman wearing tap pants and a bra. More inspirations on my pinterest board '1920s Lingerie'.
The Pattern
Here's a pattern for 1920s circular drawers: A Complete Course In Dressmaking, 1921, p. 58ff. There are also patterns for step-in drawers and bloomers. And here's another 1920s tap pants pattern.
The Closure
The tap pants are closed on the left side with two buttons, like these 1920s tap pants. The opening is finished with a continuous bound placket.
A 'way of finishing the bloomers at the top is with a belt and an opening at the side, called a placket. Sometimes there is a placket on each side and sometimes only on the left side. […] A placket that is strong and simply made is called the continuous or bound placket. Both of these names describe the placket because one continuous piece of cloth is used to bind the placket opening. […] Buttons and buttonholes are the strongest and most satisfactory fastening.' (A Girl's Problems In Home Economics, 1926)
The Seams
The side seams are finished with French seams, like these 1920s tap pants. French seams were a popular seam finish in the 1920s. 'French seams will give the best finish.' (A Complete Course In Dressmaking, 1921, p. 61)
The Crotch Piece & Hem
I joined the crotch piece with a flat felled seam. Unlike French seams, flat felled seams lie flat and are easier to iron. 'A seam which is frequently used on bloomers is the fell seam. […] This seam, which is often called the flat felled seam, gets its name from the fact that it is flat on the material and has no part that stands up as in the French seam. For this reason it is an especially good seam to use for underwear.' (A Girl's Problems In Home Economics, 1926)
The bottom of the tap pants are finished with a narrow hem, as on these 1920s tap pants.