That's my 1920s blue wool coat.
It's a short coat. Usually, 1920s coat were knee-length, and longer as the dress, but there were also short coats in the 1920s, like these 1920s photographs show: 1927 'Alpina' coat and a pretty photograph of a short coat with dog.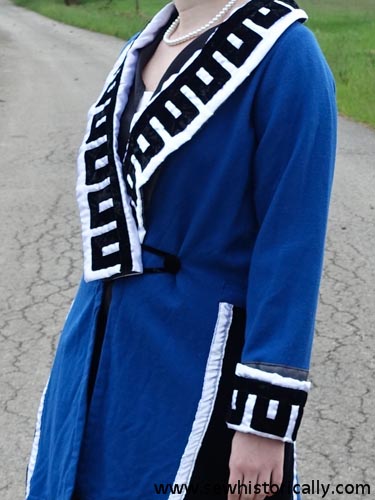 I used 100% royal blue wool fabric, black cotton velvet fabric, black velvet ribbon, white polyester satin fabric, grey quilted fabric and purple taffeta.
I had to piece together the coat because I just had 1 meter of the blue wool fabric. So the white satin collar and cuffs are lined with grey quilted lining. I also inserted black cotton velvet at the sides.
The coat is closed with one black velvet covered button and a black velvet button loop.
Here's a 1927 coat with a similar collar and button and loop closure.
The collar is a padded kimono-style collar. Coats with kimono collars were fashionable in the 1920s: 1920s evening coat with satin roll collar and 1927 coat with white satin collar.
The coat is unlined, that means that just the sleeves are lined. I used a scrap piece of ugly purple taffeta because the sleeve lining would hardly ever be seen. The seams are covered with navy cotton bias binding.
There's also bias binding at the hem of the coat.
It was a cold and cloudy spring day when we took the photos.
With the coat I'm wearing my new 1920s black wool cloche hat. Here you'll find my tutorial and a pattern for this 1920s cloche.
Some of my inspirations for the coat: 1927 fashion plate of a blue coat with black and white collar, photograph of short black coat with white fur and the 1919 piano coat.
I'm wearing the coat with my 1920s black artificial silk dress.