That's my 1920s bathing suit.
It's a refashion, as I used an old, long, two-piece knit fabric nightgown in dark grey and light grey. I thought the fabric would be perfect for a 1920s bathing suit because the fabric is warm, thick cotton jersey, and grey and black was often used for 1920s bathing suits.
As the nightgown was so long, there was enough material for a 1920s bathing suit with top and trunks.
1920s bathing suits were often made of knitted wool or cotton fabric. Here's a 1926-8 Annette Kellerman dark wool knit bathing suit, and an antique photograph of a girl in a bathing suit with her puppy.
1920s knit bathing suits had either a button closure at the shoulder, and the pants sewn to the top at the waistline – like the Kellerman bathing suit; or they had a separate top with jumpsuit underneath – like this 1925 bathing suit.
At first, I wanted to make the first option. So I added a button closure at the shoulder strap. But then I feared my sewing machine would distort the fabric when I'd try to attach the shorts to the top at the waistline, and I had still enough fabric left, so I made a separate jumpsuit to wear underneath the top, as in option two.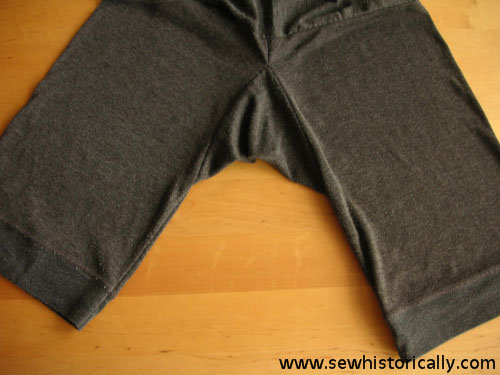 For the shorts I used a pattern from the book 'Women's Wear of the 1920s: With Complete Patterns': The leg pieces are cut straight, and a gusset (fabric square) is added to the crotch. The shorts of this knitted bathing suit are constructed similarly.
For the photos I pinned my hair into a faux 1920s bob and tied a silk scarf round my head like this 1920s woman in beachwear.
This pretty photograph of a woman in an early 20s swimsuit sitting on a tree trunk with her dog, inspired me to take the bathing photos here with the old trunk across the river.
And as it's one of the favorite bathing places of our dog, the photo shooting wasn't boring for her this time. 😉
By the way, it was November when we took the photos and the people stared or grinned in their warm winter coats and parkas as the dog and I were splashing around in the water. 😀
Later that day, we were even swimming in a lake, as I always wanted to try what it was like to swim in November! 😀 But the water was very cold, so I didn't stay long in the water. 😉
Our dog had a great time: She even likes to go swimming at Christmas or New Year's Day! 😀
I played a bit with my image editing program and created an 'antique photograph' with one of the pics which reminds me of this pretty 1920s photograph of a woman and her dog bathing in a river.
On this website, I even found some short movies from the 1920s of men, women, and children in bathing suits paddling and swimming in the ocean! 😀