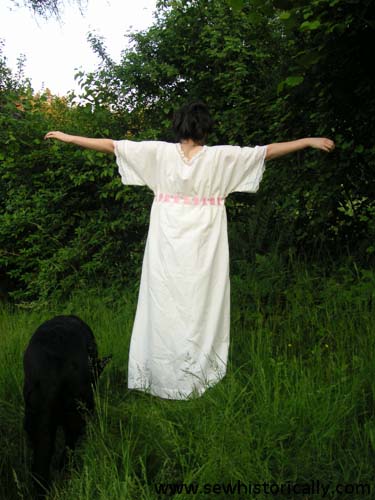 In the 1900s, kimono nightgowns were popular because they could be easily made at home. For my Edwardian kimono nightgown I used white cotton fabric, different cotton lace trims from my stash and pink polyester satin ribbon. I used polyester satin ribbon because this is what I had in my stash: But I might change it later to a silk satin ribbon.
I used this free antique Edwardian sewing pattern for a kimono nightgown. But I made slightly sloping shoulder seams so my kimono nightgown is made from two pieces of fabric.
A kimono 'nightdress is easy to make' with the sleeves 'cut with the gown all in one' (Clothing And Health. An Elementary Textbook Of Home Making, 1916).
I followed these 1916 instruction on how to sew a kimono nightgown. My nightgown just clears the ground and is finished with a deep hem at the bottom such as this 1900s lace nightdress. Here's a photograph of a girl wearing an Edwardian kimono nightdress.
The nightgown is gathered under the bust with a ribbon which is tied into a bow at the front. To thread the ribbon through, I sewed countless long buttonholes, such as on this kimono lace nightgown.
I joined three different cotton laces as sleeve finish. The neckline is trimmed with cotton lace, as well, and slightly gathered with cotton string, as can be seen on this 1900s nightgown. And here's a photograph of a kimono nightgown with crochet lace, a plain 1915 nightdress, and a nightgown with pink satin ribbon. The shoulder seams are flat felled seams and all other seam are French seams as this 1919 source suggests.
Here's another kimono nightgown with eyelet lace I made.